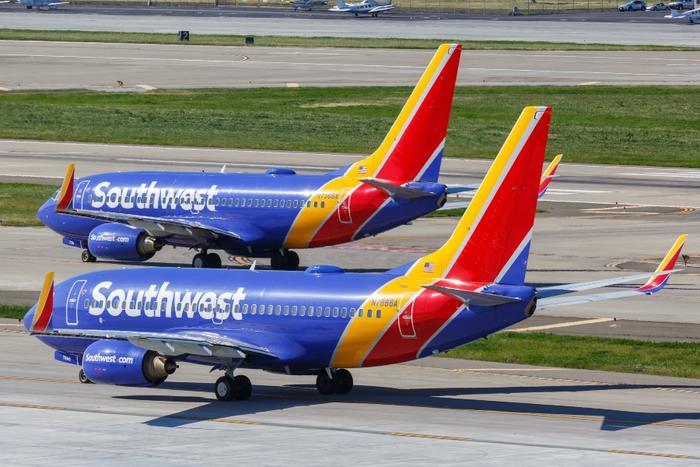 The Federal Aviation Administration (FAA) has opened an investigation after an in-flight episode involving one of Southwest's Boeing 737 jets.
As a result of a Las Vegas-Boise flight losing cabin pressure, the FAA's inspection of the aircraft uncovered a 12-inch crack on the fuselage's crown skin.
The area where the crack was located is subject to mandatory inspections every 1,500 flight cycles. A flight cycle is the operation of an engine from the time an aircraft leaves the ground until it touches the ground at the end of a flight. A report in the Wall Street Journal claims the FAA was investigating the likelihood of structural problems affecting other Boeing 737 jets. 
"The aircraft was taken out of service and is currently in maintenance receiving repairs," Southwest said in a statement responding to the situation.
A repeat performance?
Boeing has been through an eerily similar situation before -- not only with its 737 but also with 757 model aircraft.
In 2010, the National Transportation Safety Board (NTSB) found that a factory error led to a crack in the fuselage skin of a Boeing 757, causing a sudden mid-flight decompression with 160 people aboard. 
In 2011, a similar situation on a Southwest flight involving a 737 led the NTSB to discover fatigue cracks "emanating from at least 42 of the 58 rivet holes connected by the fracture," according to FlightSafety.org. That particular jet had close to 40,000 flight cycles at the time. After that incident, a Southwest Airlines investigation found that three other 737s also showed "crack indications." 
As a result of those incidents, FlightSafety said Boeing called on the airlines to do a further inspection of fasteners in the crown skin area. The FAA followed that move by mandating an inspection.