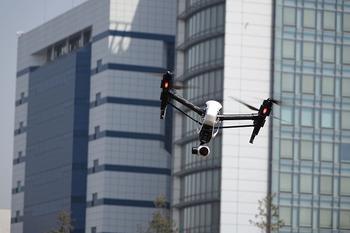 Commercial drones are an ideal product for getting spectacular aerial views, but operators must be careful of where they fly them. That's a lesson that SkyPan International is learning the hard way after reaching a settlement with the Federal Aviation Administration (FAA).
The aerial photography company has agreed to pay $200,000 for allegedly conducting 65 illegal flights above the cities of Chicago and New York City from 2012 to 2014. In a press announcement, the FAA says the company will work with the agency to release three public service announcements in the next year to support public outreach campaigns that encourages other drone operators to comply with unmanned aircraft (UAS) regulations.
SkyPan has refused to admit to any wrongdoing but says that the settlement will allow it to avoid future unnecessary expenses and let it get back to work.
"SkyPan continues to strive to maintain the utmost levels of safety, security, and privacy protection in its operations. To that end, is pleased to join with the FAA to promote compliance with safety regulations governing UAS operations," the company said.
Reduced fine
In addition to the $200,000 settlement, SkyPan has also agreed to pay $150,000 if it violates Federal Aviation Regulations in the next year, as well as another $150,000 if it violates the terms of the settlement.
While having to cough up $200,000 is less than desirable, the result of the settlement is a far cry from the original settlement that the FAA had proposed in October, 2015. At that time, the agency had filed for a $1.9 million civil penalty against the company, which was the largest ever filed against a UAS operator.
Consumers are reminded that they need a remote pilot certificate to operate as a commercial drone pilot, or supervision for someone who has the certification. In order to qualify, certificate seekers must pass an initial aeronautical knowledge test at an FAA-approved knowledge testing center or have an existing non-student Part 61 pilot certificate. Before receiving the certificate, applicants will also be subject to a background check conducted by the Transportation Security Administration (TSA).
More information can be found here.