---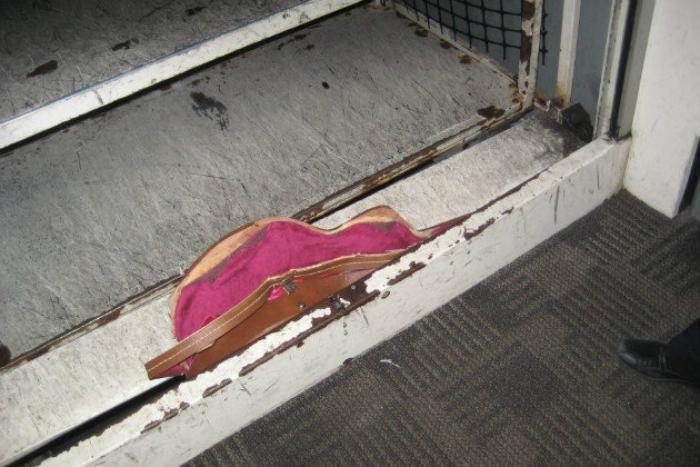 It was just about a year ago that Delta Airlines destroyed musician Dave Schneider's antique Gibson guitar and then added insult to injury by refusing to pay for it. Fortunately, Gibson stepped up and gave Schneider a new one but the incident illustrates that all too often, the day the music dies is the day a musician entrusts his valuable instrument to an airline.
Congress tried to do something about the problem in 2012 but the Federal Aviation Administration has yet to do its part, striking a sour note with many lawmakers.
More than 30 members of Congress have written to Transportation Secretary Anthony Foxx asking why the FAA hasn't yet put out a rule to protect musicians' instruments, as a 2012 law requires it to do.
The answer? The FAA's parent agency -- the Department of Transportation -- says it doesn't have the money to implement the rule, which was supposed to have been finished by last week.
Fairly typical
This is fairly typical. In 2008, Congress passed the Cameron Gulbransen Kids Transportation Safety Act, requiring the department to implement a rule mandating backup cameras in cars. The measure, named after a child who was killed when a car backed over him, was signed into law by President George W. Bush and sent to the Transportation Department for action.
There've been lawsuits, protests, denunciations by parents, members of Congress and safety advocates, all getting the same result: none. Musicians' instruments may be next on the no-action list.
Leading the effort to build a fire under the bureaucracy is Rep. Jim Cooper (D-Tenn.), who represents Nashville, a town that counts music as its primary export.
"Countless stories have emerged over the years of musicians whose guitars, lutes, flutes and other musical instruments have been damaged because of a patchwork series of airline policies that put these fragile and valuable instruments in danger," Cooper and his collegues wrote. "Musicians arrive at their destination, only to learn their instruments were lost or find their instruments damaged with little if any time to replace them."
The 2012 bill expressly permitted musicians to buy a ticket for their instrument, entitling it to a seat. This is something airlines now allow only on a sporadic basis. The bill made it clear that musicians should be permitted to store their instruments in overhead bins, something that is also allowed only on a sporadic basis at present.
Why is it so hard to write a rule that permits this?
In a statement, the Transportation Department said it "has been working to find funding to support the regulatory evaluations required before we can issue this rulemaking, since money was not provided along with the requirement in the FAA Modernization and Reform Act of 2012."
This is a very familiar tune around Washington, where federal agencies routinely shrug off their legally required duties, claiming lack of funds.
Cooper and collegues are not amused.
"We understand the budgetary pinch that many agencies have found themselves in," they wrote. "But the relatively modest cost of promulating this rule should not have hindered its completion."
Will the FAA change its tune? Don't count on it.
---