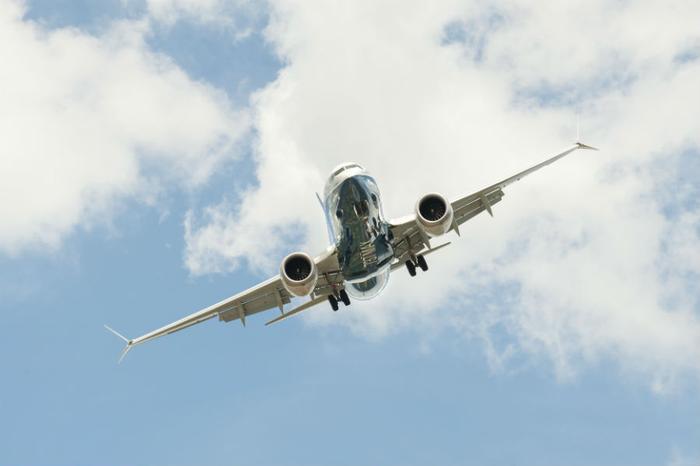 After being grounded since March 2019, Boeing's 737 MAX jets underwent a test flight by Federal Aviation Administration (FAA) chief Steve Dickson. 
Dickson, a former commercial pilot, flew the aircraft on Wednesday during a test flight in Seattle. He said the revisions to the flight control system made in the wake of the two fatal crashes gave him confidence in its airworthiness.  
"I liked what I saw," Dickson told reporters in a news conference after the flight. "I completed a number of test profiles today to examine the functionality of the aircraft and I liked what I saw, so it responded well." 
He added that the test flight didn't have anything to do with the FAA's official recertification process, which is still underway. But Dickson gave the jet an overall positive review after flying it for several hours and taking it through a number of different scenarios. 
"I did two landings and also some air work maneuvers over about a two-hour period... and I felt prepared," he said. I think most importantly, I felt that the training prepared me to be very comfortable." 
Addressing safety issues 
Boeing's 737 MAX has been grounded for about a year and half following two crashes that occured within five months of each other, killing a total of 346 people. 
Both crashes were caused, in part, by a faulty automated flight control system, called MCAS. Following the crashes, Boeing made changes to MCAS and expanded pilots' training to include simulator time before they can fly the plane. 
Dickson has assured the public that the plane won't be allowed to resume service until it has undergone rigorous FAA testing. The aircraft will also need to be safe enough to earn his own personal seal of approval.
"I made a promise I would fly the 737 Max and that I wouldn't sign off on its return until I was comfortable putting my family on it," he said. "It was important to experience the training and the handling of the aircraft."
Not rushing recertification process
The FAA has released a list of changes that must be made in order for the aircraft to be recertified to fly. Dickson has said the process cannot and will not be rushed, but at this point, it appears to be close to wrapping up. 
"The FAA continues to take a thorough and deliberate approach in our review of Boeing's proposed changes to the 737 Max, he said. "The FAA will not approve the plane to return to passenger service until I'm satisfied that we've adequately addressed all of the known safety issues."