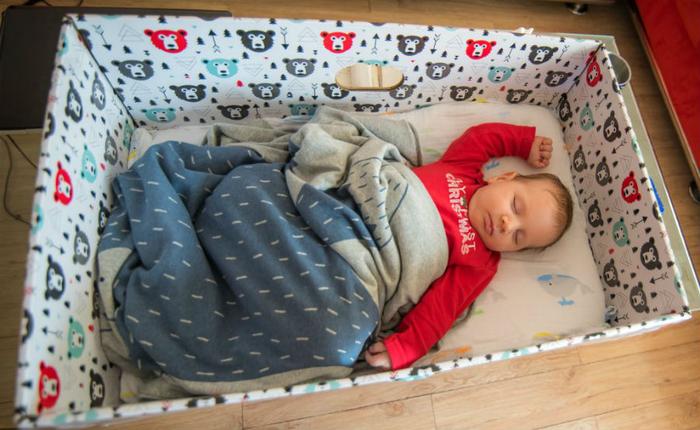 Researchers say cardboard baby boxes should not be promoted as a safe alternative to a cot, bassinet, or Moses basket.
Baby boxes -- which originated in Finland and have often been credited as a factor in the country's low infant mortality rates -- come stocked with essential baby items, including a mattress that fits inside the box.
But in a letter published in the medical research journal The BMJ this week, experts cautioned that there is a "scarcity" of evidence that the boxes reduce the risk of sudden infant death syndrome (SIDS) among newborns who sleep in them.
"The cardboard baby box should not be promoted as a safe sleeping space, but as only a temporary substitute if nothing else is available," said Peter Blair, a professor at the University of Bristol in England, and colleagues.
Potential risks
The letter's authors say these boxes may put babies in harm's way. For instance, if a box is placed on the floor, the baby can be easily accessed by pets and siblings. If the box is placed higher up, it could topple and fall. The boxes are also potentially flammable.
Until studies have helped researchers "better understand how families use the cardboard baby box," Blair and other experts say the boxes should only be used as a temporary bed for an infant if nothing else is available.
"We support any initiative that raises awareness of SIDS, including appropriate SIDS risk reduction advice distributed with cardboard baby boxes," Blair and his colleagues wrote. "But this advice can be undermined if the messages given are incorrect or mixed with non-evidence-based messages about the intervention itself."
Child advocates have concerns
The American Academy of Pediatrics (AAP) has also expressed concerns over the boxes, primarily due to the fact that they "are not required to meet safety rules like cribs, bassinets, play yards and infant carriers."
The AAP recommends that babies be placed to sleep on their backs and on a firm, flat surface free of any soft objects or loose bedding.
The authors of the letter say cribs, bassinets, and Moses baskets are safer than baby boxes because they allow parents to see their baby and promote better air flow.
For parents who do plan on using a baby box as a sleeping space for their baby, The Lullaby Trust, a charity that focuses on reducing the number of SIDS death by educating parents on safe infant sleep practices, offers the following advice:
Use your baby box for daytime naps only and sleep your baby in a cot or a Moses basket next to your bed during the night.

Do not lift or carry the box around your home if your baby is in it.

Do not put the lid on the box if your baby is in it.

Do not place additional bedding on top of the mattress to raise your baby up to a higher level.

Ensure the box is placed on a solid surface and cannot topple over.

Do not use the box if it gets wet or soiled.

Do not put a box on an under heated floor.

Do not leave the baby in the box unattended or out of view.

Do not use the box once your baby is able to roll.

Ensure that you comply with any instructions relating to the maximum age and weight of the infant for which the box can be used.