---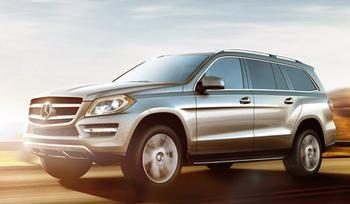 Despite a still sluggish U.S. economy, car sales rose sharply in 2012. And one segment of the car industry did particularly well -- high-priced luxury cars.
Mercedes-Benz USA (MBUSA) sold more cars than ever last year -- 305,072 vehicles, representing a 15.4 percent increase over the 264,460 vehicles sold during the same period in 2011. The Mercedes-Benz model line alone also recorded a record year with sales of 274,134 for the year, up 11.8 percent.
Smart and Sprinter model lines both achieved their highest volumes under the MBUSA umbrella with smart sales increasing 92.2 percent to 10,009 while a record month for Sprinter took the brand to 20,929 for 2012, an increase of 26.3 percent.
Strong 2013 outlook
"A strong product offensive backed our retail network's commitment to providing a world-class ownership experience put the wind at our back and enabled us to outperform the market and take the brand to new heights in the U.S.," said Steve Cannon, president & CEO of MBUSA. "We're going to ride that momentum into 2013 with new products across the entire model line from entry point to flagship."
For December, the Mercedes-Benz product line alone posted sales of 28,145 vehicles, up 9.5 percent from 25,701 in December 2011, bringing MBUSA sales to a best-ever 31,372, up 12.0 percent from the 28,006 vehicles sold in December 2011.
Anything with the Mercedes logo seemed to sell well. The sporty C-Class -- the gateway to the Mercedes-Benz brand for younger and first-time Mercedes-Benz buyers -- recorded its highest year on record with sales of 81,697, up 17.9 percent over its year-to-date volume in 2011. The 9th generation E-Class followed with sales of 65,171, and the M-Class, MBUSA's top-selling SUV, rounded out the top three with sales of 38,101.
Infiniti
Infiniti reports its 2012 sales hit 119,877, up 21.8 percent from 2011. Infiniti said its strong sales were helped by December, which saw 12,627 units drive out of showrooms -- beating the previous December by nearly 15 percent.
"2012 was a strong year for Infiniti, as we added the Infiniti JX luxury crossover, and the Infiniti G sports sedan and QX full-size luxury SUV continued to be solid players in their segments," said Ben Poore, vice president, Infiniti Americas. "The JX brought new buyers into our showroom, and we expect that will continue throughout 2013, as we add another important new vehicle to the Infiniti line."
The company said sales of the Infiniti QX rose 28.6 percent in December, marking its best month ever. For 2012, sales increased 14.0 percent to 15,310 units, its best year since the full-size luxury SUV was introduced into the Infiniti line in 2004.
The new Infiniti JX saw sales of 2,708 in December, its best month since it went on sale in March. For 2012, the 7-passenger luxury crossover had sales of 21,674, making it the second best-selling vehicle in the Infiniti line.
Consumers willing to spend more
Even if they weren't buying luxury cars, U.S. consumers spent more on new vehicles in 2012. Automotive pricing information company TrueCar estimates the average transaction price for light vehicles in the U.S. $31,228 in December 2012, up $542 from December 2011 and up $396 from November 2012.
"Pricing and incentives spending in December were almost ideal for manufacturers as the industry spent less money on incentives while attaining higher net transaction prices in the market place compared to year ago levels," said Jesse Toprak, Senior Analyst for TrueCar. "The resurgence of the trucks segment in December helped contribute to the some of the highest average transaction prices we have ever recorded."
---