---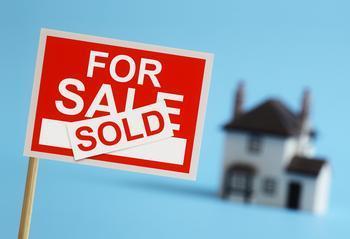 Inventory shortages and faster price growth notwithstanding, sales of previously-owned homes rose for a second consecutive month in April.
The National Association of Realtors (NAR) reports total existing-home sales -- completed transactions that include single-family homes, townhomes, condominiums, and co-ops, -- rose 1.7% last month to a seasonally adjusted annual rate of 5.45 million. Sales are now up 6.0% from the same month a year ago.
"Primarily driven by a convincing jump in the Midwest, where home prices are most affordable, sales activity overall was at a healthy pace last month as very low mortgage rates and modest seasonal inventory gains encouraged more households to search for and close on a home," said NAR Chief Economist Lawrence Yun. "Except for in the West -- where supply shortages and stark price growth are hampering buyers the most -- sales are meaningfully higher than a year ago in much of the country."
Prices, inventory and mortgage rates
The median price for all types of existing homes last month was $232,500, up 6.3% from April 2015, marking the 50th consecutive month of year-over-year gains. The median is the point at which half the prices are higher and half are lower.
Total housing inventory at the end of April was up 9.2% to 2.14 million previously-owned homes available for sale, but it is still 3.6% lower than a year ago. Unsold inventory is at a 4.7-month supply at the current sales pace, versus 4.4 months in March.
"The temporary relief from mortgage rates currently near three-year lows has helped preserve housing affordability this spring," Yun noted. However, he stated that "there's growing concern a number of buyers will be unable to find homes at affordable prices if wages don't rise and price growth doesn't slow."
According to Freddie Mac, the average commitment rate for a 30-year, conventional, fixed-rate mortgage fell from 3.69% in March to 3.61% in April -- the lowest since May 2013, when it was 3.54%.
Sales by region
Existing-home sales in the Northeast climbed 2.8% last month to an annual rate of 740,000, and are now 17.5% above a year ago. The median price in the Northeast was $263,600, up 4.1% from April 2015.
In the Midwest, sales shot up 12.1% to an annual rate of 1.39 million for a year-over-year gain of 12.1%. The median price was up 7.7% to $184,200.
Sales in the South fell 2.7% to an annual rate of 2.19 million, but are still 4.3% above a year earlier. The median price was $202,800, up 6.5% from a year ago.
Previously-owned home sales dipped 1.7% in the West to an annual rate of 1.13 million and are down 3.4% from a year ago. The median price rose 6.5% to $335,000.
---