---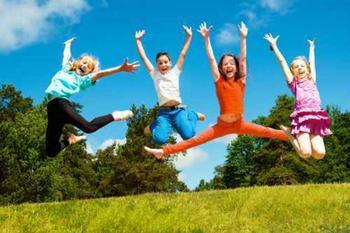 Kids don't have to be sitting at a desk to experience a boost in brain power. In fact, time spent out of the classroom may actually help kids get better grades.
According to new research, exercise and physical activity can help improve kids' academic performance. Additionally, it has been shown to improve physical health and brain development in 6 to 18-year-old children.
The research, which comes in the form of a statement from the University of Exeter, shows that just about any form of physical activity can have a positive impact on kids' brains. 
Brain benefits
A single session of moderate exercise has immediate positive effects on brain function and academic performance, according to the panel of experts who contributed to the statement.
And it doesn't matter whether the activity is structured or unstructured or if it takes place in school or out of school; the simple act of gaining a mastery of basic movements is what helps the brain.
In light of this finding, experts say educators shouldn't hesitate to incorporate physical activity into every aspect of school life. Doing so not only helps kids' developing brains, it can improve their overall health and well-being. 
Physiological benefits
Heart disease and type two diabetes are two health risks that can be kept at bay via vigorous physical activity during childhood, according to the statement. But even non vigorous activity has been shown to improve kids' health.
Frequent sessions of low- to- moderate level exercise can improve children's heart health and their metabolism -- which can, in turn, help stave off a number of other health conditions.
Engaging in regular physical activity with peers may also give children's self-esteem a boost, which may help bolster their confidence, strengthen their relationships, and improve their overall sense of wellbeing.
All in all, there's no downside to allowing kids to take a break from school to engage in physical activity. On the contrary, experts say time taken away from lessons is time well spent.
The consensus statement has been published online in the British Journal of Sports Medicine.
---