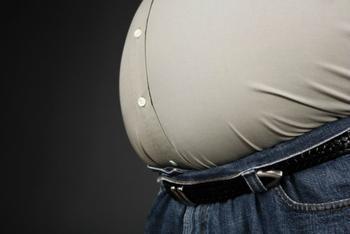 There are many people out there who wouldn't mind dropping a couple of pounds, but a new study from the American Heart Association (AHA) may provide even more incentive to shed some excess weight.
Researchers have found that gaining even a little weight over time can lead to alterations in the structure and function of heart muscle, which increases the risk of heart failure. This is significant because heart failure falls under the umbrella of heart disease, which is the leading cause of death in the U.S.
"Any weight gain may lead to detrimental changes in the heart above and beyond the effects of baseline weight so that prevention should focus on weight loss or if meaningful weight loss cannot be achieved -- the focus should be on weight stability," said senior author and cardiologist Dr. Ian Neeland. "Counseling to maintain weight stability, even in the absence of weight loss, may be an important preventive strategy among high-risk individuals."
Increased risk of heart failure
The researchers analyzed nearly 1,300 adults over a seven-year period who were initially free from heart disease and high-risk factors for heart disease. MRI scans of participants' hearts and multiple body fat measurements were taken at the beginning of the study and at the end of the study.
Findings showed that consumers who gained weight during the time period were more likely to have subtle decreases in their hearts' pumping ability. The researchers say that even as little as a 5% gain in weight led to a thickening and enlargement of the left ventricle, which is a well-established indicator of future heart failure.
These changes remained constant even after the researchers adjusted for other factors that could affect heart muscle performance and appearance, including high blood pressure, diabetes, smoking, and alcohol use. Interestingly, the results showed that a participant's weight at the beginning of the study had no bearing on the impact of the changes, which suggests that even consumers of normal weight could be adversely affected by weight gain over time.
Weight management
The researchers admit that their study is smaller in size and say that their findings don't necessarily mean that every person who gains weight will suffer from heart failure. However, they do caution consumers to take weight management seriously to prevent any negative changes to heart function.
"Our findings support the importance of weight management to prevent secular changes in adiposity, concentric remodeling, and eventual heart failure over time," the authors write.
The full study has been published in the Journal of the American Heart Association.