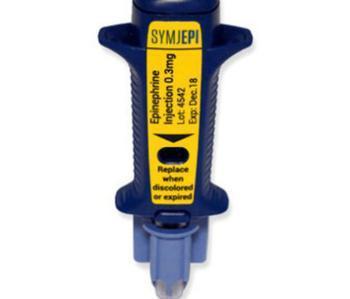 EpiPen is getting some competition. A new prefilled syringe for emergency allergy treatment has been approved by the U.S. Food and Drug Administration.
The Symjepi is manufactured by Adamis Pharmaceuticals and, like the EpiPen, contains two small doses of epinephrine (adrenaline), used to counteract severe allergic reactions to food, insect stings, drugs, and other allergens.
EpiPen has had the market largely to itself for years and has been lambasted by critics for charging consumers more than $600 for the life-saving medication. Critics have also said EpiPen manufacturer Mylan Pharmaceuticals has overcharged Medicaid $1.2 billion.
Dr. Dennis J. Carlo, President and CEO of Adamis, said the company was preparing to submit a second application to the FDA, this one for a "junior version" of Symjepi.
"We are committed to helping patients by providing them with additional therapeutic choices," Carlo said. "With an anticipated lower cost, small size and user-friendly design, we believe Symjepi could be an attractive option for a significant portion of both the retail (patient) and non-retail (professional) sectors of the epinephrine market."
Carlo said the product is expected to launch in the second half of the year.
Each Symjepi prefilled syringe contains 0.3 mg of epinephrine.