---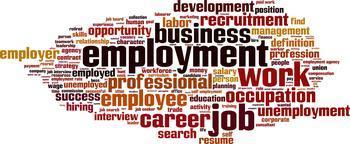 Job growth in the U.S. fell to its lowest level in seven months during April.
According to the Department of Labor (DOL), nonfarm payroll employment rose by just 160,000 last month, with the unemployment rate holding at 5.0%. In addition, the government revised the job gains in March and February downward by 7,000 and 12,000 respectively.
The slowdown in job growth came as the labor force participation rate fell to 62.8% and the employment-population ratio dropped to 59.7%. On the bright side, average hourly earnings rose by eight cents to $25.53, following an increase of six cents in March. Over the year, average hourly earnings are up 2.5%.
Gainers and losers
Professional and business services added 65,000 jobs in April, followed by health care employment (+44,000) and financial activities (+20,000).
Mining employment declined again in April (-7,000) and, since reaching a peak in September 2014, has decreased by 191,000, with more than three-quarters of the loss in mining support activities.
There was little or no change in other major industries, including construction, manufacturing, wholesale trade, retail trade, transportation and warehousing, information, leisure and hospitality, and government.
Who's working and who's not
Among the major worker groups, the unemployment rate for Hispanics rose to 6.1%, while the rates for adult men (4.6%), adult women (4.5%), teenagers (16.0%), Whites (4.3%), Blacks (8.8%) and Asians (3.8%) showed little or no change.
The number of long-term unemployed (those out of work for 27 weeks or more) declined by 150,000 to 2.1 million, accounting for 25.7% of the unemployed.
The full report is available on the DOL website.
---