---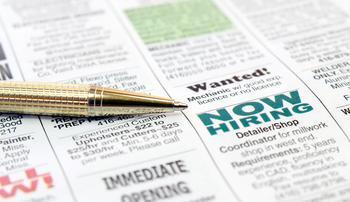 Despite a steadily improving economy and a "Trump rally" that has sent Wall Street soaring, America's employers appear to be dialing back their hiring plans.
A survey from DHI Group, Inc., a data analysis firm, found 56% of hiring managers expect increased hiring levels in the first half of 2017. While encouraging, it's a six-point drop from six months ago and a five point drop from when they were asked the same question a year ago.
Even 68% of employers who focus on hiring IT professionals have lowered their targets, even though technology jobs have been among the hardest to fill.
Taking longer to fill jobs
The survey also found that vacant staff positions are taking longer to fill. About half of hiring managers say the time it takes to fill open positions has lengthened since last year, which at the time was the longest since the survey began.
Again, the job openings in the tech sector appear to be the ones that take longest to fill. That suggests that the reason hiring managers are lowering their outlook for 2017 might have more to do with the competitive landscape than any expectations about the economy.
"Finding the right candidates for the right positions continues to be a challenge for America's hiring managers as demand for highly skilled professionals creates tension and competition among employers," said Michael Durney, President and CEO of DHI Group. "To combat the time a position remains unfilled, recruiters are turning to sourcing and services which speed efficiency. But, professionals remain ultimately in control and are asking for more money during the recruiting process."
New hires cost more
Rising wages could well be another reason that employers expect to scale back in the coming year. If they have to pay more to fill a position, they may try to consolidate resources or leave positions open for longer periods of time. The fact that 59% of hiring managers expect they'll have to pay more to hire new people in 2017 suggests the pay issue could be a key factor in a slowing labor market.
The U.S. economy added 161,000 new jobs to the economy in October – a slowing from earlier in the year – and the unemployment rate dropped to 4.9%. Last week Federal Reserve Vice Chairman Stanley Fischer suggested the U.S. economy is very close to full employment, if not there already.
---