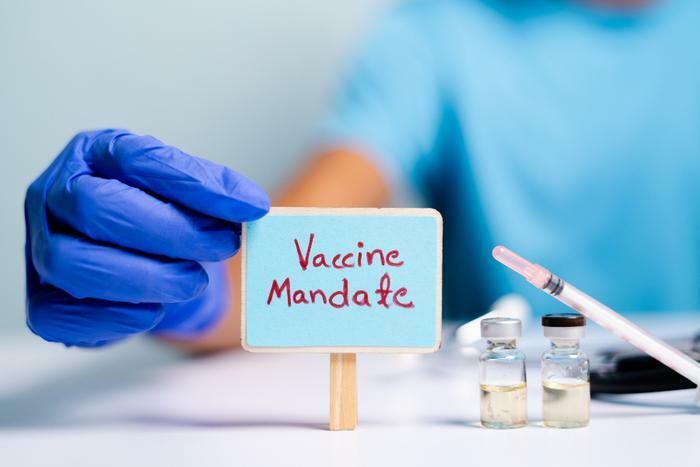 By the end of this week, the Federal Register is expected to publish the Department of Labor's rule mandating that private businesses with 100 or more employees either have to vaccinate those workers or test them weekly.
This is the final step in a requirement that President Joe Biden issued in September -- a plan that impacted some 80 million workers. The Office of Management and Budget completed its review of the rule on Monday.
"Covered employers must develop, implement, and enforce a mandatory COVID-19 vaccination policy, unless they adopt a policy requiring employees to choose either to get vaccinated or to undergo regular COVID-19 testing and wear a face covering at work," a spokesperson for the Labor Department said. "The ETS also requires employers to provide paid time to workers to get vaccinated and paid sick leave to recover from any side effects."
Mandates are a double-edged sword
Government officials who have weighed in on the plan say the standard is a "minimum" and that companies have permission to take the requirements even further -- for example, by mandating vaccinations as opposed to requiring workers who remain unvaccinated to produce a negative test result on at least a weekly basis.
However, if an employer decides to do nothing, there could be trouble. The government could step in and "take enforcement actions," including fines of up to $14,000 per violation.
Dr. Robert G. Lahita, Director of the Institute for Autoimmune and Rheumatic Disease at Saint Joseph Health and author of the upcoming book Immunity Strong, told ConsumerAffairs that the emergency mandate is a double-edged sword.  
"A lot of people feel this emergency mandate is appropriate. Personally, I am all for mandating vaccines for healthcare workers, school staff, fire, police, EMS, etc. Anybody on the front lines should be mandated to get vaccinated immediately," Lahita said. 
"However, I do understand that mandating for employers is walking on thin ice. I'm concerned how this will impact the economy if a significant number of people refuse to get vaccinated and are laid off."