---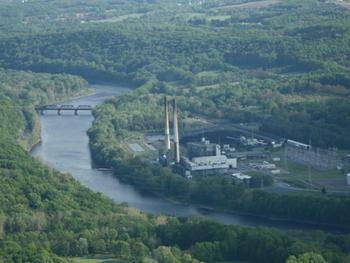 Emissions from coal-fired power plants have previously been tied to health problems, including heart attacks, acute bronchitis, asthma, premature death, and lost work and school days. Now a new study finds that prenatal exposure is also a problem.
Researchers at Lehigh University in Bethlehem, Pa., drew on data from a Pennsylvania power plant from 1990 to 2006 and studied live births that occurred downwind of the plant in New Jersey.
Infants born to mothers living as far as 20 to 30 miles downwind from the power plant were 6.5% more likely to be born with a low birth weight (i.e., birth weight below 2,500 grams) and 17.12% more likely to be born with a very low birth weight (i.e., birth weight below 1,500 grams).
"Robust association"
"Identifying this causal effect is not only necessary for proposing regulatory policies on plant emissions, but also essential for inferring the long-term health impacts of such policies," said Muzhe Yang, Associate Professor of Economics at Lehigh. "A robust association has been found in the literature between birth weight and outcomes during adulthood, such as health, educational attainment, and earnings."
The study is not just theoretical. The problem of emissions crossing state borders has long complicated the regulation of power plants in the United States. While each state can regulate plants within its borders, it can't regulate those in neighboring states. The Lehigh study illustrates the impact that uncontrolled emissions can have on public health.
New Jersey tried for years to get emissions from the Portland Generating Station under control, filing petitions with the U.S. Environmental Protection Agency citing evidence showing that sulfur dioxide (SO2) emissions from the plant had reached four New Jersey counties as far as 20 to 30 miles away.
The EPA eventually ruled that the emissions from this power plant alone caused the violations of the SO2 national ambient air quality standards in the downwind state, New Jersey, and found that the plant ranked fifth among the top 50 "dirtiest" plants in the country.
"In addition to identifying the impacts of the emissions from this particular coal-fired power plant on fetal health, the usefulness of this study's identification strategy is its potential application to other studies examining the impact of upwind states' power plant emissions, which have been the target of a series of environmental regulations, such as the EPA's Cross-State Air Pollution Rule," Yang added.
The study titled "The Impact of Prenatal Exposure to Power Plant Emissions on Birth Weight: Evidence from a Pennsylvania Power Plant Located Upwind of New Jersey" will be published in a forthcoming issue of the Journal of Policy Analysis and Management and is now available online.
---