---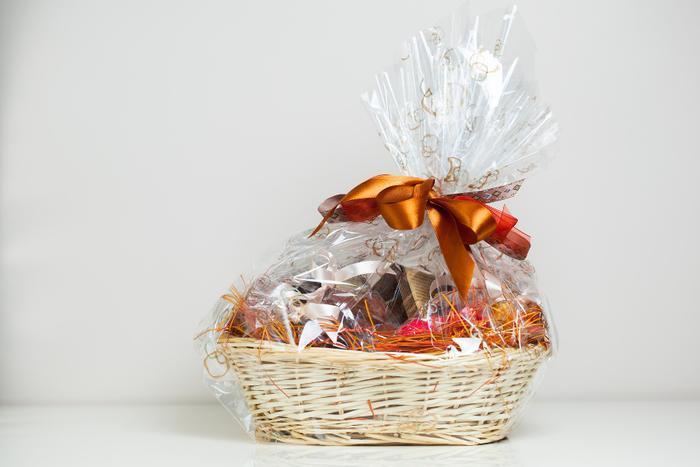 Tomorrow is Christmas Eve and the last day of Hanukkah, so if you're still looking for this-year's holiday gift ideas … yeah, you already wish you'd done this sooner, you know putting things off until the last minute is a bad idea, and you resolve to do better next year. Lesson learned.
Meanwhile, you still need a gift to give this year and it's too late to order anything online or through the mail, which means you're limited to what's available in the brick-and-mortar stores nearest you … and by now all the good stuff's probably gone.
If you can't find anything to buy except cheap, uninspiring (and usually non-gift-worthy) items, remember the cynical old saying: quantity has a quality all its own. Take candy, for instance: a single ordinary candy bar isn't an appropriate holiday gift, but a variety of different candy bars in a decorative container might be, if you do it right.
Candy is one possibility, but of course there's plenty of other themes you can use to put together a "gift basket," "gift tin" or something similar.
First you need the actual basket or tin – check your nearby thrift store or secondhand shop, if it's still open, before you commit to paying full price at your local retailer. Arts-and-crafts shops are likely to still have some decorative baskets or tins in stock, even at this late hour, though their prices tend to be much higher than the same items bought at a Target/Kmart/Walmart-type of store, which in turn are higher than what secondhand shops would likely ask.
Once you have your container, all you need to do is fill it.
Jams and jellies
One jar of jam or jelly is a pretty lame holiday gift, but a variety of jars in different flavors, combined with a box or two of fancy crackers, can make a passable plausible last-minute gift, if they're attractively presented.
Chocolate gift set
Fill the box or basket with chocolate items or accessories, such as small packages of chocolate-covered cookies, pretzels or other affordable delicacies, or hot cocoa packets combined with decorative mugs and perhaps a package of marshmallows.
Tin or basketful of candy
Self-explanatory.
Stationery/writing supplies
Even in today's electronic era, there's still room for old-fashioned writing paraphernalia. Fill a tin or basket with various writing implements: nice pens; writing paper and envelopes; blank-page books with decorative covers; and similar items.
Art or drawing supplies
Fill the decorative container with a box of colored pencils (or a large box of crayons, if the recipient is a young child); black drawing pencils; blank-page sketch pads or sketch books; paints and paint brushes; and so forth.
Decorative candles
A couple of nice candles plus the appropriately sized candlesticks or candle holders. Candle snuffers are also a nice accessory if you can find them inexpensively. Avoid scented candles if possible, unless you know exactly which scents the recipient likes.
Winter car emergency kit
This is a "sensible" rather than "fun" gift, for drivers living in parts of the country where snowstorms are a possible winter hazard: combine a box of wooden matches, a small collection of metal-cup tealight candles, a metal coffee can or decorative tin, and a common other common household items into an emergency heating kit for drivers stranded in their cars. Instructions are here.
Of course, this list is only meant to provide a partial sampling of ideas. The possible options are limited only by your own imagination ... and what's still available in local stores, this late in the holiday season.
---