---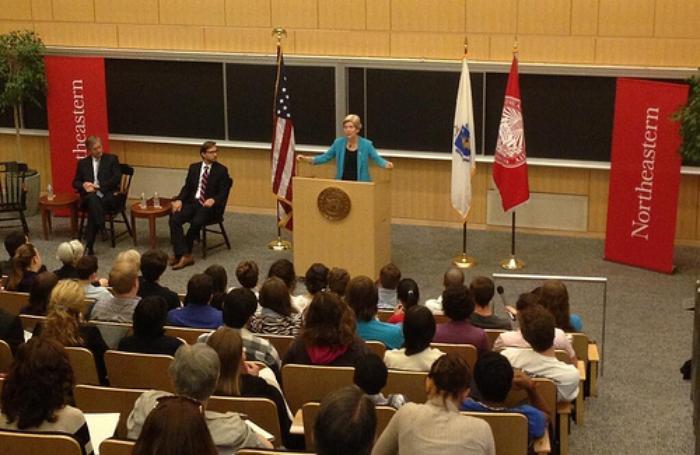 Sen. Elizabeth Warren (D-Mass.) has introduced the Bank on Students Emergency Loan Refinancing Act, which would allow those with outstanding student loan debt to refinance at the lower interest rates currently offered to new borrowers.
"Exploding student loan debt is crushing young people and dragging down our economy," Warren said. "Allowing students to refinance their loans would put money back in the pockets of people who invested in their education. These students didn't go to the mall and run up charges on a credit card. They worked hard and learned new skills that will benefit this country and help us build a stronger middle class and a stronger America."
Many borrowers with outstanding student loans have interest rates of nearly 7% or higher for undergraduate loans, while students taking out new undergraduate loans pay a rate of 3.86% under the Bipartisan Student Loan Certainty Act passed by Congress last summer, she noted.
The Bank on Students Emergency Loan Refinancing Act would allow students and young people to pay back their outstanding loans at the same rates that Senate Republicans overwhelmingly embraced just last summer as appropriate for new borrowers, Warren said.
"It is outrageous that students can't refinance at these historically low interest rates,"said Senator Barbara Boxer (D-Calif.), one of the bill's co-sponsors. "This legislation gives students the same fair shot as other borrowers have when interest rates decline."
GOP reluctance
While the bill had no trouble attracting co-sponsors among Democrats, it's not likely to be as popular with Republicans, especially given the financing method Warren's bill contemplates: raising taxes on millionaires by eliminating certain deductions -- the so-called Buffett Rule.
President Obama included the Buffett Rule in a tax plan he proposed in 2011. It would apply a minimum tax rate of 30% on taxpayers making more than $1 million per year. The White House has said it would directly affectd 0.3% of American taxpayers.
Pressures of a midterm election year could put enough pressure on many GOP legislators that they may at least look the other way, some observers said.
"I would consider it — we've got to do something about that debt," said Sen. Johnny Isakson (R-Ga.), a member of the Senate Health, Education, Labor and Pensions Committee, the Wall Street Journal reported.
The 23 Democrats co-sponsoring the measure were less equivocal in their support of it.
"For too many of America's young people, pursuing a college education has become a one-way ticket to a lifetime of student loan debt.," said Sen. Dick Durbin (D-Ill.), author of the Student Loan Borrower Bill of Rights Act. "Giving student loan borrowers the option to opt into a lower interest rate by allowing them to refinance their loans will be a financial relief to millions of families in Illinois and America."
---