---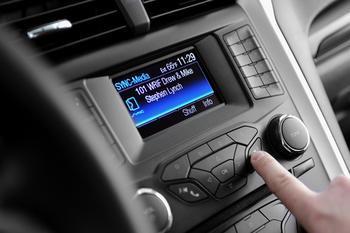 Until recently, the car was something of a refuge from the distractions of everyday life. Oh sure, you could listen to the radio or even pop in a CD or maybe plug your iPod into the auxilary jack, all while keeping an eye on the GPS, propping up the phone and occasionally glancing out the windshield.
It's about to get even harder to stay focused, as automakers rush to add entertainment and electronics gadgets to cars, many of them being previewed at this week's Consumer Electronics Show in Las Vegas.
Examples:
Ford says it will offer the Internet music service Rhapsody in more than 1 million Ford and Lincoln vehicles. Rhapsody says 40% of its subscribers are already listening in the car. By integrating Rhapsody with Ford Sync's voice commands and steering wheel buttons, the listening experience may become a bit safer.
Rhapsody rival Pandora says it is already available in 75 vehicle models. More are likely to be announced soon.

Slacker Radio will be bringing its 200 "expert-programmed" stations of news, talk, sports, and music to selected Chrysler models equipped with the Uconnect system, similar to Ford Sync.
Giant radio station owner Clear Channel will integrate its iHeart Radio into Chrysler and General Motors vehicles. It also introduced iHeartRadio for Auto, a version of its app that will be offered through after-market radio vendors.
Not to be left behind, Greater Media is bringing 16 of its terrestrial radio stations to the mobile Web and Ford vehicles via Ford Sync. Drivers can listen to their favorite radio stations from places like Boston, Philadelphia, Charlotte, Detroit and New Jersey wherever they are driving – all without touching their smartphone.
News junkies, meanwhile, will be able to access, navigate, search and listen to morning and evening editions of the USA TODAY headline content, again via Ford Sync.
Time to fill
If all this sounds a little far-fetched, consider for a moment that the average American who drives to work spent 46 minutes per day on the road. That's a lot of time to fill, and listening to music or news/talk is the obvious solution.
The question for automakers is whether there's a way for them to cash in on any of this, over and above what they get for the hardware and software that's installed in the car.
Roomsful of MBAs are no doubt running scenarios at this very moment, looking for ways that carmakers can get their fingers into the pot somehow. Could it be that someday the likes of Ford and VW will be producing entertainment, information and data-processing services for the drivers and passengers in their well-connected cars?
It might sound outlandish but not long ago, it was considered foolish to think Americans would pay more than $30 a month for cable TV service.
---