---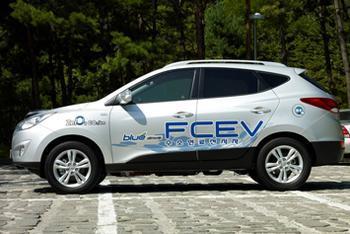 Battery-powered electric cars are being heralded as the clean-air, carbon-neutral future, but there are some big obstacles, including range anxiety, high cost and the often-ignored fact that the generation of electricity is not always an environmentally-friendly process.
Hyundai is promoting its hydrogen-powered vehicle as a much better answer. The third-generation Hyundai Tucson Fuel Cell Electric Vehicle (FCEV) does away with heavy batteries, can go as far as 300 miles between fuelings and never needs to be plugged in.
The Tucson crossover uses fuel-cell power from compressed hydrogen to generate its own electricity and power an electric motor. The FCEV Tucson performs at a range equal to gasoline-powered vehicles and does so with an energy source that is not only renewable but also far safer than gasoline, according to Hyundai.
Production of the Hyundai Tucson Fuel Cell began at the company's Ulsan manufacturing plant in Korea in January 2013, making Hyundai the first automaker to begin commercial production of a hydrogen-powered vehicle. The first complete car rolled off the assembly line on February 26, 2013.
The company is planning a roll-out of the cars next year in California, which has been actively encouraging construction of refueling stations.
The California Energy Commission (CEC) in August awarded Hydrogen Frontier, Inc. a $3 million grant to build a new 100 percent renewable hydrogen fueling station for fuel cell electric vehicles at Hyundai's hydrogen energy generation and fueling station in Chino, Calif. The station is supposed to open to the public by October 2014, joining the eight public stations open today and 17 more that are in development. The goal is to have 68 stations in place to support the larger rollout of the vehicles in the next few years.
"Hyundai has been supporting governments, energy companies and other organizations globally to develop an easily accessible and affordable hydrogen infrastructure," said Dr. Sung Hwan Cho, president, Hyundai America Technical Center, Inc. "With world-class partners like Hydrogen Frontier and the support of the California government, we are expanding the hydrogen fueling infrastructure and taking one more step toward mass production of a fuel cell electric vehicle."
Hydrogen fuel cells use hydrogen to create electricity which powers the electric-drive vehicles. Fuel cell vehicles have no tailpipe greenhouse emissions and their range between fill-ups and the speed at which they refuel are comparable to that of conventional vehicles. The development of fueling stations, such as the Chino facility, is crucial to the success of fuel cells in the marketplace.
Batteries: yesterday's news?
As anyone with a smartphone knows, lithium ion batteries -- the kind used in most electric vehicles -- can be troublesome. Charging is time-consuming and the batteries have an unfortunate tendency to overheat, occasionally starting fires.
They're also expensive, which limits automakers' profits and makes electric vehicles so expensive that government subsidies are required to move them off dealer lots. So far, no one has found a way to reduce the cost of the batteries used in cars and the search for economies of scale hasn't produced any answers, Kwon Moon-sik, Hyundai Motor Group's president of R&D, said at a recent conference.
"There is no problem with the technology -- only with the cost and profitability," Kwon said of battery EVs, according to Automotive News. "We cannot make a profit with them."
Other automakers are still in the research phase and several have formed partnerships to spread the development costs, but Hyundai is going it alone for now, hoping to build demand for the technology and thereby spark development of more fuel station networks.
Feds get on board
The federal government initially shunned fuel cell technology in favor of batteries, but in May launched H2USA, a public-private partnership with Hyundai, Mercedes-Benz, Nissan and Toyota to promote hydrogen refueling infrastructure.

H2USA will bring experts together to solve key infrastructure challenges, including leveraging low-cost natural gas resources. Through the program, industry and government partners will identify actions to encourage early adopters of fuel cell electric vehicles, conduct coordinated technical and market analysis, and evaluate alternative fueling infrastructure that can enable cost reductions and economies of scale.
"Fuel cell technologies are an important part of an all-of-the-above approach to diversify America's transportation sector, reduce our dependence on foreign oil and increase our competitiveness in the global market," said assistant secretary for energy efficiency and renewable energy, David Danielson in the Energy Department's press release. "By bringing together key stakeholders from across the U.S. fuel cell and hydrogen industry, the H2USA partnership will help advance affordable fuel cell electric vehicles that save consumers money and give drivers more options."
"Hyundai's Tucson Fuel Cell program is an integral part of our plan to develop low-carbon, fuel-efficient vehicles that minimize fuel consumption and reduce carbon dioxide emissions," said Gil Castillo, senior group manager, alternative vehicle strategy, Hyundai Motor America. "Our partnership with the Energy Department and H2USA is another way Hyundai is striving to meet the critical social needs for both mobility and environmental preservation."
---