---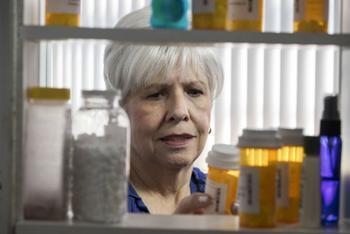 Health officials have begun to pay more attention to the drugs that doctors are prescribing. In recent weeks, the attention has been on opoid painkillers, which are highly addictive and prone to abuse.
Now researchers are taking a closer look at drug combinations. Specially, the combination of drugs taken by older consumers.
Seniors tend to take more prescription medication than anyone else, and very often they are taking several different drugs. Researchers at the University of Chicago now estimate that one in six are regularly swallowing potentially deadly combinations of pills – prescription, non-prescription, and dietary supplements.
A team led by assistant professor of pharmacy systems Dima Mazen Qato studied a sample of consumers between the ages of 62 and 85. It found that the percentage taking at least five prescription medications rose from 30% in 2005 to nearly 36% in 2011.
Cheap and plentiful
Why so many drugs? Perhaps because they are available and often covered by health benefits, meaning the consumer doesn't pay the direct cost.
Here's an example; the use of simvastatin – whose brand name is Zocor – is the most commonly prescribed medication for older consumers. When it became available as a generic in 2006, its use doubled from 10.3% to 22.5%.
There has also been a spike in the use of dietary supplements, which Qato says has limited evidence of benefits to support their widespread use. Over the course of the study, it traced an increase in use from 51.8% to 63.7%. The biggest jump was in the use of omega-3 fish oils.
Life-threatening drug combinations
The study identified 15 potentially life-threatening drug combinations of the most commonly used prescriptions and supplements. The number of seniors taking this potentially lethal drug combination nearly doubled between 2005 and 2011. Qato says it poses a dangerous irony.
"Many older patients seeking to improve their cardiovascular health are also regularly using interacting drug combinations that may worsen cardiovascular risk," she said.
The responsibility falls on health care providers, Qato maintains. She says doctors need to more carefully consider the adverse effects that combinations of drugs and supplements can have, especially on older patients.
If you or a family member are taking five or more medications, it's a good idea to have a discussion about it with your health care provider. Before the meeting, do an Internet search for each of the medications, looking for warnings of dangerous combinations.
---