---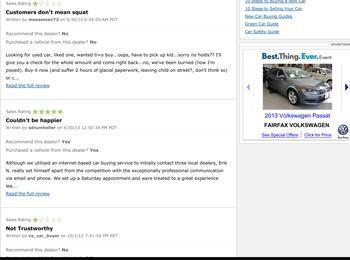 Consumer review sites have empowered consumers to fight back against shoddy business practices and to reward brands and retailers that treat them right.
But the review sites are locked in a constant battle with so-called "reputation management" companies that often engage in fraudulent methods to sneak positive reviews past the editors and algorithms who try to ensure that reviews are genuine.
Some companies are reputable and counsel their clients to respond promptly and honestly to consumer complaints and urge them to use the complaints as a way to improve their business processes. But others simply dummy up fake complaints that are little more than spam and bombard review sites, hoping a least a few will make it through.
The automotive news and review site Edmunds.com is taking an aggressive approach towards the problem. It has filed a lawsuit against online reputation management company Humankind Design Ltd. for allegedly attempting to post fraudulent reviews.
Edmunds filed the suit in Texas after it discovered that Humankind tried to register almost 2,200 fake members on the site, the company said.
Humankind, based in Friendswood, Texas, claims that it can push negative reviews off of Google's first page and improve the ratings its clients get on third-party review sites.
"Imagine owning the first page of Google and Bing with only positive information. You work hard on your business and it's important to put your best face forward," Humankind says on its website.
Edmunds said it identified 25 dealers who hired Humankind to make up and submit fake reviews. Justin Anderson, owner of Humankind, disputed the allegations in published reports.
"I can say that we completely disagree with the assertion that we are posting fraudulent reviews online," Anderson told one reporter.
---