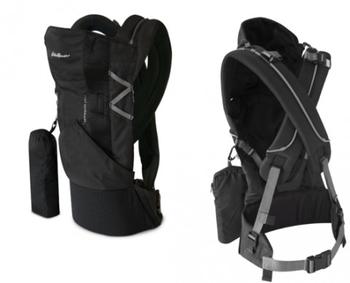 Gold Inc., doing business as Goldbug, of Denver, Colo., is recalling about 22,000 Eddie Bauer fabric infant carriers.
The buckles on the infant carriers can break, posing a fall hazard to children.
The firm is aware of eight reported incidents of broken buckles. No injuries have been reported.
This recall involves Eddie Bauer fabric infant carriers that are worn by the parent or caregiver with the baby strapped into the front.
The recalled carriers are black with "Eddie Bauer" and "First Adventure" printed in gray lettering on the front, outside of the carrier.
The infant carriers, manufactured in China, were sold exclusively at Target stores nationwide and online between December 2017, and August 2018, for about $70.
What to do
Consumers should immediately stop using the recalled carriers and contact Gold Inc. to verify that the product is subject to this recall. Once the product is verified, consumers will receive replacement products of comparable value or a full refund.
Consumers who purchased this recalled product must cut off and return both straps and tag with their name, address, and phone number to receive selected replacement products, free of charge, or a full refund.
Consumers may contact Gold Inc. toll free at (866) 600-7205 Monday through Friday, 9 a.m. – 5 p.m. (MT) or by email customerservice@goldbuginc.com or online at www.goldbuginc.com and click on Recalls for more information.