---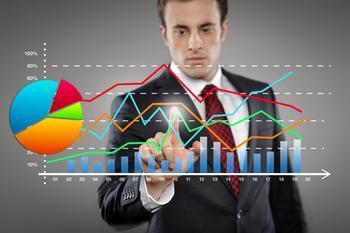 After recrunching some numbers, the Commerce Department reports the economy was doing a bit better in the fourth quarter than initially reported.
The Gross Domestic Product (GDP) -- the output of goods and services produced by labor and property located in the United States -- increased at an annual rate of 0.4% in the final three months of the year.
This latest estimate, the government's third, is based on more complete source data than were available last month, when an increase of 0.1% was reported. Analysts at Briefing.com had projected a fourth-quarter growth rate of 0.3%.
Major factors
The fourth quarter increase primarily reflects positive contributions from personal consumption expenditures (PCE), nonresidential fixed investment, and residential fixed investment that were partly offset by declines in private inventory investment, federal government spending, exports and state and local government spending. Imports, which are a subtraction in the calculation of GDP, decreased.
The fourth-quarter growth rate was considerably slower than the 3.1% advance in the third quarter.
The deceleration was due largely to primarily reflected downturns in private inventory investment, in federal government spending, in exports, and in state and local government spending that were partly offset by an upturn in nonresidential fixed investment, a larger decrease in imports, and an acceleration in PCE.
Corporate profits
As it released its GDP report, the government said corporate profits rose $45.4 billion in the fourth quarter, compared with an increase of $45.7 billion in the third quarter.
Taxes on corporate income decreased $4.4 billion in the fourth quarter, in contrast to an increase of $9.1 billion in the third.
Jobless claims
Separately, the Labor Department reports first-time claims for unemployment benefits rose 2,000 in the week ending March 16 -- to a seasonally adjusted initial claims was 336,000. The previous week's total was revised up by 2,000 -- to 334,000.
The 4-week moving average, which is less volatile and considered a more accurate gauge of the labor market, was 339,750 -- down 7,500 from the previous week's revised average of 347,250.
---