---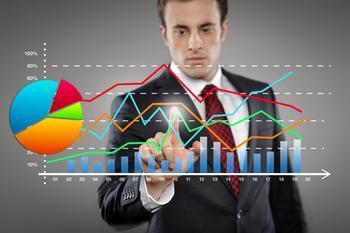 The economy strengthened last year, but was sputtering as 2012 drew to a closae.
The output of goods and services produced in the United States -- known as real gross domestic product or GDP -- decreased at an annual rate of 0.1 percent in the fourth quarter of 2012, according to the Bureau of Economic Analysis. It was the first quarterly decline in GDP since the second three months of 2009.
However, for the full year 2012, real GDP increased 2.2 percent after growing 1.8 percent in 2011.
Minuses and pluses
The decline in real GDP growth in the fourth quarter reflected the following:
Inventory investment turned down, mainly because of a decline in inventory investment in manufacturing industries.

Federal government spending fell significantly, reflecting a downturn in defense spending.

Net exports turned down, mainly reflecting a decrease in exports of goods; food, feeds and beverage items as well as civilian aircraft, engines, and parts fell significantly.
In contrast, business investment was higher, as spending on equipment and software rebounded (mainly computers and related parts as well as transportation equipment). Consumer spending also picked up (mainly financial services as well as autos and parts).
Prices and spending
Prices of goods and services purchased by U.S. residents rose 1.3 percent in the fourth quarter, following a 1.4 percent rise in the third quarter. Energy prices slowed, and food prices turned up. Excluding food and energy, prices rose 1.1 percent in the fourth quarter, compared with 1.2 percent in the third quarter.
Real personal consumption expenditures increased 2.2 percent in the fourth quarter, compared with an increase of 1.6 percent in the third. Durable goods increased 13.9 percent, versus an increase of 8.9 percent. Nondurable goods increased 0.4 percent, compared with an increase of 1.2 percent. Services increased 0.9 percent, compared with an increase of 0.6 percent.
Looking at 2012
The pickup in economic growth for the full year 2012 mainly reflected:
A slowdown in imports, notably in capital goods (except autos) and consumer goods.

A rebound in residential housing.

An upturn in inventory investment.

A smaller decrease in state and local government spending.

The contributions were partly offset by slowdowns in consumer spending (mainly on services

and nondurable goods) and in exports (mainly industrial supplies and materials).
---