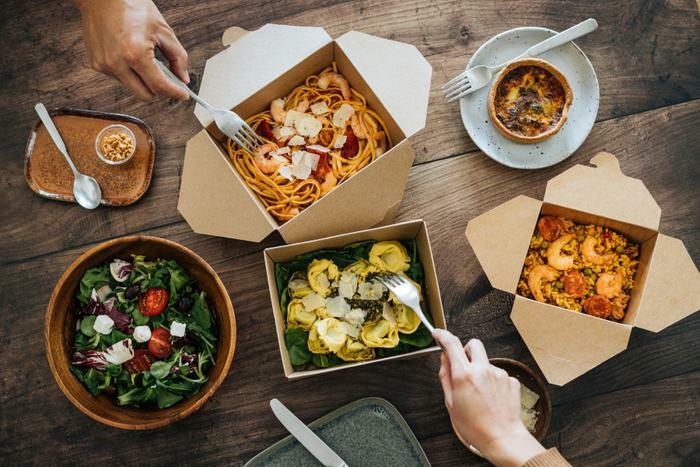 Going out to a nice meal can be a great way for consumers to celebrate a special occasion or spend quality time with their family and friends. However, a new study may have some consumers rethinking how often they're eating food prepared outside of their homes. 
According to experts, eating a lot of take-out -- whether that's eating in a restaurant or ordering food to-go -- may increase a person's risk of dying. Instead, they say consumers should make a conscious effort to prepare the majority of their meals at home. 
"This is one of the first studies to quantify the association between eating out and mortality," said researcher Dr. Wei Bao. "Our findings, in line with previous studies, support that eating out frequently is associated with adverse health consequences and may inform future dietary guidelines to recommend reducing consumption of meals prepared away from the home." 
Cooking at home can have health benefits
To understand what effect eating take-out food had on mortality, the researchers analyzed 15 years' worth of data from the National Health and Nutrition Examination Survey. Participants answered questions about their eating habits, and the researchers then followed up by looking at death records linked to a number of different causes. 
The researchers learned that participants who primarily ate take-out food were at an increased risk of death in general, as well as death from heart disease or cancer. Compared to those who ate fewer than one meal per week that was prepared outside the home, those who ate two or more take-out meals per day were nearly 1.5 times more likely to die from any cause and nearly 1.7 times more likely to die from cancer. 
"The take-home message is that frequent consumption of meals prepared away from home may not be a healthy habit," the researchers wrote. "Instead, people should be encouraged to consider preparing more meals at home." 
Controlling what is in your meals
According to the researchers, the adverse health effects incurred from eating a lot of take-out food likely stems from the quality of food served at many restaurants. Though a lot of establishments offer healthier options, it's impossible for consumers to completely control what's going into their meals when someone else prepares the food.
Moving forward, the team recommends that health care professionals do their part to encourage healthy eating -- both inside and outside the home. 
"It is important to note that the study design for this research examines associations between frequency of eating meals prepared away from home and mortality," said researcher Linda G. Snetselarr, Ph.D. "While encouraging clients to consider preparing healthy meals at home, registered dietitian nutritionists might also focus on how selections from restaurant menus can be healthy. Tailoring strategies to each client by reviewing menus from restaurants they frequent can help them make healthy food choices."