---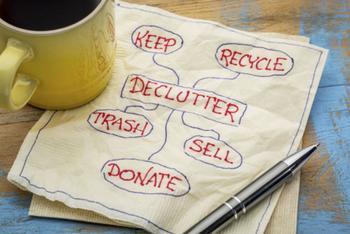 Physical clutter can overload the senses, which is why you might feel stressed and mentally drained amid excess stuff. Clutter-free surroundings, on the other hand, tend to make people feel refreshed and relaxed.
If your home doesn't evoke feelings of restoration and relaxation, it may be time to declutter. But cutting the clutter can be a challenge, especially if you're not sure where to start.
Whether your home is big or small, these tips can help you tackle a few typical clutter hotspots. While it might take some time and effort, your organizational efforts will likely pay off in the form of a home that doubles as a respite from life's chaos.
Cutting kitchen clutter
Pantries and kitchen cabinets can be clutter magnets, filled with expired foods and canned goods that aren't likely to be used any time soon. Organize these spaces by throwing out expired items and donating canned goods that you'll never use.
Then, group your items by category. Use organizational tools like tiered spice racks, turntables, or baskets to organize spices and canned goods. Clear jars often make useful storage vessels for flour, sugar, and other bulky items because they allow you to keep track of how much you have.
Organizing your closet
Have a closet filled with items you rarely wear? To figure out which items you're not wearing on a regular basis, try the Oprah Winfrey Closet Hanger Experiment.
Hang all your clothes with the hangers in the reverse direction. After you wear an item, return it to the closet with the hanger facing the correct direction. After six months, you'll have an idea of which clothes are good candidates for donation.
If you're still lacking in storage space, consider going vertical. Take advantage of wall space in your closet by hanging hooks, shelves, or recessed cabinets. Use this extra storage space to house seasonal items.   
Beating bathroom clutter
For a functional yet tidy bathroom, give everything a home. Glass apothecary jars are an aesthetically pleasing way to store cotton balls and swabs, while under-the-counter caddies can keep bottled products from cluttering your countertop. Wall-mounted baskets or shelving above the toilet can provide additional linen storage.
As you're organizing, toss any products that you're not using. Cosmetics that have been collecting dust take up valuable cabinet space and might even pose a health risk if bacterial growth has begun. 
To keep your home clutter-free year round, consider giving away one item each day. This tip, via Colleen Madsen at 365 Less Things, will put you on track to creating a space that feels fresher and lighter every day.
Thanks
Keep an eye on your inbox, the lastest consumer news is on it's way!
Unsubscribe easily whenever you want
---