---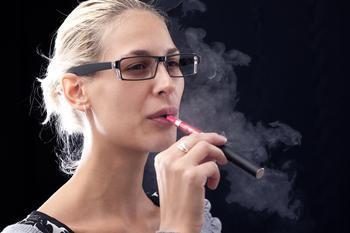 A new study disputes claims that e-cigarettes are a "disruptive technology" that can help smokers quit by replacing their traditional cigarettes. The study follows last week's action by the U.S. Food and Drug Administration to regulate e-cigs and restrict their sale to anyone under 18.
The study by researchers at the Tobacco Center of Regulatory Science (TCORS) at Georgia State University found that most smokers who have tried electronic cigarettes have rejected them as less satisfying than regular cigarettes, thus reducing their potential as a quit-smoking device.
E-cigs "need to improve as a satisfying alternative or the attractiveness and appeal of regular cigarette must be degraded to increase the potential of replacing regular cigarettes," according to lead author Dr. Terry F. Pechacek, professor of Health Management and Policy.
"It can be argued that efforts are needed by the public health community to reduce the appeal and attractiveness of the cigarette and other combusted tobacco products, namely, decreasing the product, promotion, placement and price advantage of these more lethal combusted tobacco products," the researchers wrote.
The findings are published in Nicotine & Tobacco Research.
Survey details
The researchers surveyed 5,717 U.S. adults in 2014, asking questions about their awareness of e-cigarettes, use of their products, and reasons for using traditional and novel tobacco products.
Among the 144 former cigarette smokers who had tried e-cigarettes, nearly 30 percent (or 43 people) continued to use them as a satisfying alternative to regular cigarettes.
But among the 585 smokers in the study, nearly 58 percent (or 337 people) reported they found e-cigarettes unsatisfying and stopped using them. 
---