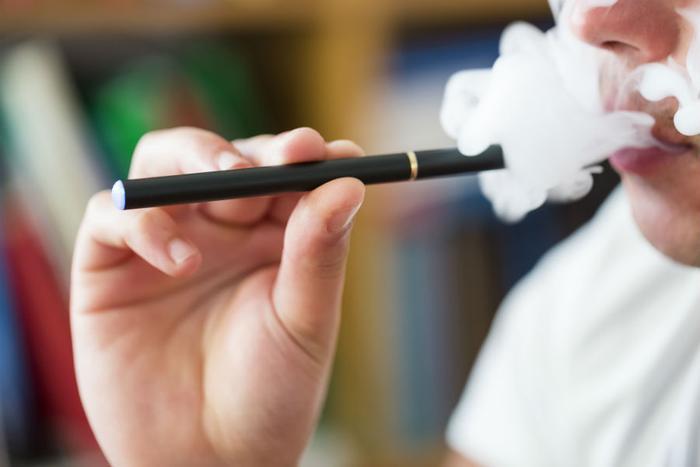 Around 6.2 million middle and high school students used tobacco in the past 30 days, according to data released Thursday in the 2019 National Youth Tobacco Survey from the CDC. The latest figures are up 3.6 million from last year and represent the highest level since 2000. 
CDC officials attributed the spike in tobacco use among teenagers to e-cigarettes. For the sixth consecutive year, e-cigarettes were the most commonly used tobacco product among teenagers, the survey found. 
More than half of students (55 percent) who took the survey reported using e-cigarettes only. Other tobacco products used by adolescents included cigars, cigarettes, smokeless tobacco, hookahs, and pipe tobacco. Around 31 percent of high schoolers and 12 percent of middle school students said they had used some type of tobacco product within the past 30 days. 
"Given the evolving variety and availability of tobacco products, surveillance for all forms of youth tobacco product use and associated factors is important to inform action at the national, state, and community levels," the CDC said in a statement.
Increases in youth tobacco use
The CDC said curiosity and misperceptions of health risks have played a role in the growing popularity of e-cigarettes among adolescents. To counter their rise in use among teens, CDC Director Robert R. Redfield said it's "incumbent" to increase education surrounding the health risks of the products.  
"Our Nation's youth are becoming increasingly exposed to nicotine, a drug that is highly addictive and can harm brain development," he said in a statement. "Youth use of any tobacco product, including e-cigarettes, is unsafe. It is incumbent upon public health and healthcare professionals to educate Americans about the risks resulting from this epidemic among our youth."
E-cigarettes come in flavors that have been found to appeal to youth users. Nearly a quarter (22 percent) of middle and high school students who participated in the 2019 poll said they used e-cigarettes because "they are available in flavors, such as mint, candy, fruit, or chocolate." 
The products have also been marketed in a way that health officials have deemed problematic, as it appeared to speak directly to youth users. Nearly 9 in 10 students reported having been exposed to tobacco product advertisements from at least one source.
Juul recently agreed to stop marketing its products altogether in an effort to minimize its appeal to teen users. Lawmakers are also considering banning flavored products and raising the minimum age to buy the products.  
In September, President Trump said the FDA would soon release some "very strong recommendations" regarding the sale of flavored e-cigarettes. An official policy has yet to be announced.