---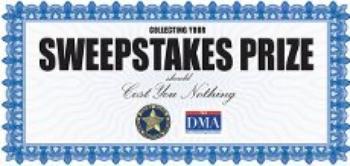 It's true in every language -- you can't win a sweepstakes you didn't enter. But that didn't stop two Dutch companies from allegedly scamming elderly Americans out of millions of dollars by telling them they had won valuable prizes and needed to pay a small fee to collect their winnings.
According to a Justice Department complaint, U.S. residents received fraudulent direct mail solicitations that falsely claimed that the individual recipient had won -- or would soon win -- cash, valuable prizes, or would otherwise come into great fortune. 
The victims then sent payments through the U.S. and international mail systems to defendants Trends Service in Kommunikatie B.V. and Kommunikatie Service Buitenland B.V., both in Utrecht, Netherlands, and both owned and operated by defendant Erik Dekker, 54, of Langbroek, Netherlands.
As the U.S. was filing its case, Dutch law enforcement agents executed search warrants on the business address used by both companies and on Dekker's home address. The Dutch authorities also took control of the Dutch P.O. boxes used by the defendants to receive victim funds. 
Global scams
"Schemes targeting elderly victims are increasingly international in scope, but geographic distance will not prevent us from seeking justice and holding bad actors accountable," said Principal Deputy Assistant Attorney General Benjamin C. Mizer, head of the Justice Department's Civil Division. "Dutch authorities have done a great service to U.S. residents and elderly victims worldwide by addressing fraud facilitated within their borders."
"No one should ever be told they must pay a fee, or make a worthless purchase, to collect a prize," said Inspector in Charge Regina L. Faulkerson of the U.S. Postal Inspection Service's Criminal Investigation Group.  "When that happens, it's fraud - plain and simple - and Postal Inspectors work to keep those falsehoods out of the U.S. mail."
---