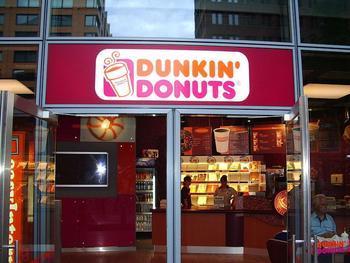 For years, fast food restaurants have tried expanding their menus in an effort to draw in more customers. But in a bit of a reversal, Dunkin' Donuts says that it will be paring down its menus at 1,000 locations to accomplish the same thing.
According to the Boston Globe, the chain announced on Thursday that it will be expanding a test of its simplified menus that began back in February. The decision will remove many of chain's breakfast sandwiches that officials say have been slower-selling items, as well as certain muffins, bagels, drinks, and pastries.
"We have conducted extensive consumer research and our customers have told us that our menu was too complex and confusing," said spokeswoman Michelle King, noting that the changes will help "enhance speed of service and in-store operations."
Unhappy consumers
While Dunkin' Donuts believes that its decision will better serve its customers and help reduce employee turnover, not everyone is happy about the reduced menu.
In an online post that went viral last week, Facebook user Diamond Lynn posted a picture detailing the menu items that will be cut out and how staff can handle the change. The post has since been shared over 4,800 times.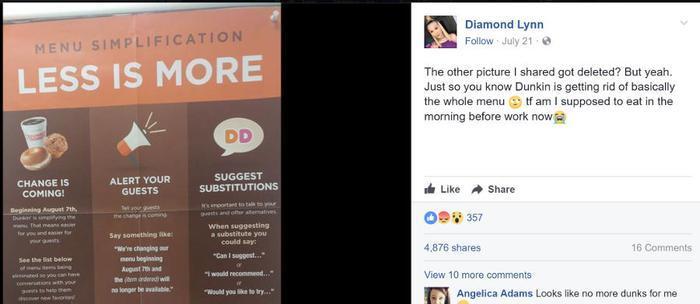 In a second-quarter earnings call, president of Dunkin' Donuts U.S. and Canada David Hoffman said that company is simply trying to focus more on efficiency by making the restaurant simpler and easier to operate.
"Together with our franchises we are laser-focused on delivering what matters most to consumers," added Dunkin' Brands chairman and CEO Nigel Travis.
For the second quarter, Dunkin' Donuts is reporting a 12.3% year-over-year profit increase. Revenues are also up 1% from the previous quarter to $218.5 million.