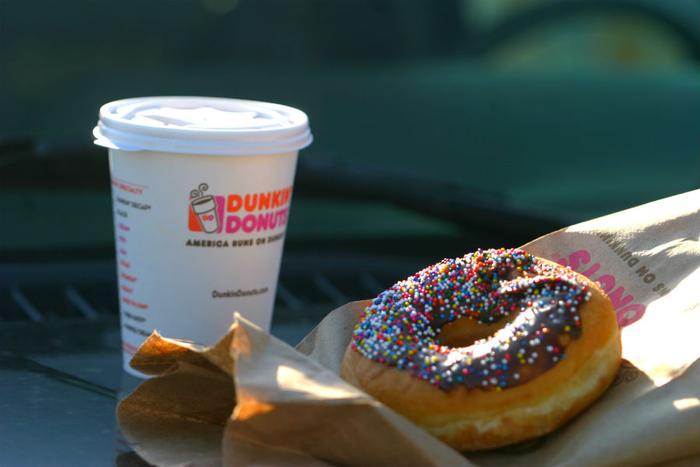 Dunkin' Donuts announced earlier this week that it will officially be dropping the "Donuts" from its name in some locations, and customers of the popular coffee chain are not happy about it.
The Massachusetts-based coffee company began testing out just "Dunkin'" at several stores across Massachusetts, and so the decision to make the change permanent certainly wasn't a surprise.
Switching to Dunkin' is one of several steps involved in the company's rebranding, which will also include digital ordering kiosks, new store designs, and new drinks -- like the nitro infused cold brew. Quincy, Massachusetts is home to the first newly designed Dunkin' store, and by the end of the year, 30 locations in Boston and 20 across the country will be upgraded.
Despite the announced change, Dunkin' has reported that any final decisions regarding branding won't be made until later this year. Additionally, the change may not be a permanent one.
Customer reactions
Regular Dunkin' customers took to Twitter to voice their outrage at the decision.
"Hold up, Dunkin Donuts drops the donut in their name?" one user tweeted. "The real question is, do you still sell donuts though?"
"Dunkin'? What is being dunked?" another user tweeted. "Is it, like, the sound of one hand dunking? I agree that 'Dunk's' would've been better."
"They literally invented the word 'donut," another user wrote. "They should keep it forever."
Not a new name
Last August, Dunkin' Donuts was opening a new store in Pasadena, California, and the store was branded solely as "Dunkin,'" again dropping the "Donuts" from the name. At the time, this store was set to be the first of several new stores that would sport the shortened version of the name.
"We have been referring to ourselves simply as Dunkin' in our advertising for more than a decade, ever since we introduced our 'America Runs on Dunkin' campaign," a spokesperson said.
At the time, a company spokesperson told National Restaurant News that the decision was made not to de-emphasize donuts, but rather to emphasize coffee that much more.
The company's official holding name is Dunkin' Brands.