---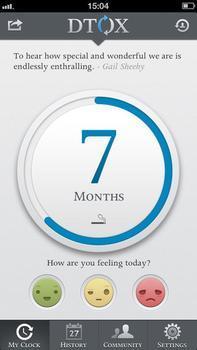 Alcohol and drug abuse are huge problems in this country. According to statistics from the American Council for Drug Education, 10 to 15 million people in The U.S. are addicted to alcohol.
And based on figures released by the National Institute on Drug Abuse, 2.1 million people in the United States had to seek emergency treatment for drug abuse and that was just in the year 2009.
Perhaps it's not surprising that these and other forms of addiction are huge problems in the U.S. and all around the world.
High-tech help
But what may be surprising is how today's technology is helping people overcome their addiction.
Take the smartphone app DTOX for example. It has all kinds of helpful features to assist a person going through the recovery process.
"DTOX is a recovery app for your smartphone that helps you overcome addiction," said Rae Dylan, an interventionist and the creator of DTOX, in an interview with ConsumerAffairs. "DTOX not only tracks your daily progress but also helps you build the support structure that everyone needs when trying to change their life. By incorporating DTOX into your daily routine, you will be taking an important first step on the road to recovery."
Dylan says DTOX assists families of addicted patients too.
"DTOX connects users together," she says. "It helps to show how others are feeling in their moods based on their days off their dependency. It provides inspiration and evidence that people are able to get clean and stay off their substances with each other, with work and dedication."
The app is also able to track a person's detox history, document a particular feeling or craving and send daily motivational messages.
Part of the solution
Right off the bat, some people may be skeptical about using an app to help beat their addiction, but Dylan says DTOX should be used along with other types of assistance.
"The app is a tool to be used in conjunction with other elements of recovery," she said. "You can use it to be connected to others; you can use it to provide a sense of anonymity. You can use it to find your way in what you might not know you need yet to get sober."
"Many addicts are skeptical in general and that is why they continue to think that they cannot get clean," Dylan points out. "If you cannot fathom it then you can't start to open yourself to the awareness that people all around you have been addicted once and are recovering."
Dylan has been coaching addiction patients for 10 years and has worked with rehab facilities, psychiatrists, doctors and 12- step program coordinators as well.
She says working with people suffering from a dependency and the professionals who try to assist them gave her the perfect kind of experience to create DTOX.
"There are all kinds of people and there are many facets of addiction," she says. "Addiction is the aftermath of an emotional disturbance and/or genetic disposition. Working with people who are in recovery themselves has proven to be extremely successful because it helps one to realize that it takes understanding, knowledge and experience. You will be able to accept help like that as an addict, when you are getting help from someone who has been there."
Help at your fingertips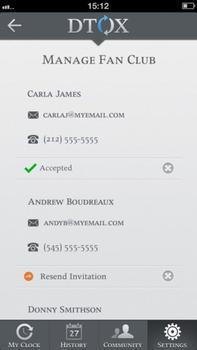 The benefit of using an app during the recovery process is that your smartphone is always with you, says Dylan, adding that with the support the app gives, DTOX serves as a constant teacher and helps to remove some of the fears that are associated with starting recovery.
"Because of technology today, privacy for many addicts seems so terrifying," Dylan said. "The phone is our constant companion. If we could turn our phone into a tool for recovery, then we could perhaps see that what we think we know -- we do not know how to do."
In addition, Dylan says helping people overcome their addiction and making them feel more confident about beginning recovery is really why she created DTOX.
"There are people that are on the recovery road that have lived miracles along their journey and can help others have hope," she said. "If we see evidence that we can do something about addiction and all the fear that surrounds it, then we are sure to see that DTOX is another way to get connected."
---