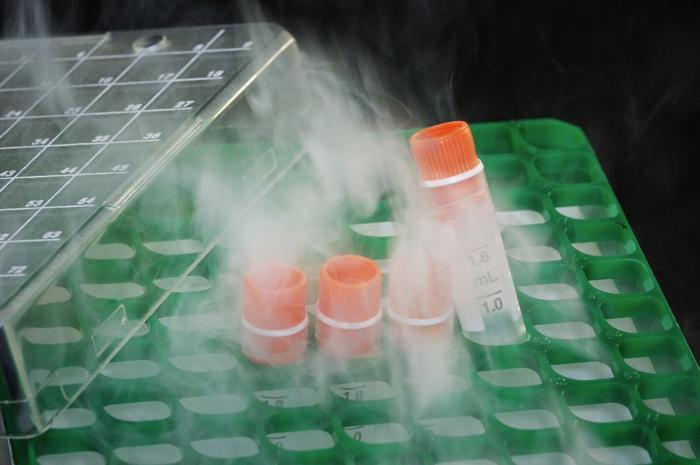 The release of a COVID-19 vaccine could be impacted by dry ice supplies in the U.S., Reuters reports. 
Dry ice is a crucial factor in keeping doses of many vaccinations at the required temperature. For example, the Pfizer vaccine needs to be kept at -70 Celsius. Failure to keep vaccinations at the proper temperature could render them ineffective. 
But some dry ice suppliers are anticipating a level of "vulnerability" in dry ice supplies during the vaccine rollout because it's unclear how much of it will be needed. 
"There's going to be spots in other parts of the country that there's vulnerability or weakness in supply," Steve Atkins, executive vice president of gases at nexAir in Memphis, Tennessee, told Reuters.
Tight supplies
Dry ice is made from carbon dioxide and is often used in the food and grocery industry, in addition to medical settings. Experts say its use for vaccine distribution threatens to cause a ripple effect that could lead to wavering supplies.
"What is going to happen is as the Pfizer vaccine needs to get distributed at -70C, all of the dry ice is going to get sucked up for vaccine distribution or healthcare related activities and it is just sitting there now," Evan Armstrong, president of Milwaukee-based supply chain consultancy Armstrong & Associates, told Logistics Management.
"That is going to impact all of the food and grocery stuff that happens on the frozen side, so the ripple effects of that are going to be pretty extreme, when it comes to all of the distribution of non-healthcare products that require dry ice as well."
Armstrong said dry ice quantities have taken a hit due to pandemic-related declines in oil prices.
"Dry ice manufacturing happens next to oil refinery plants, because they capture the CO2 out of the process," Armstrong said. "When the price of oil dropped, it really created a lot less C02 and because the production went down, it impacted it…and right now dry ice supplies are very tight."
States rushing to secure dry ice
Ahead of the rollout of a successful COVID-19 vaccine, Reuters said many states are already scheduling dry ice deliveries. Gehm and Sons in Akron has agreed to provide Ohio with 15,000 pounds per week of dry ice pellets for 55 cents a pound.
More than a dozen states told the publication that they are working hard to secure enough dry ice to replenish shipping containers sent over from Pfizer. 
Pfizer has said that the suitcase-sized containers can house vaccines for a total of 30 days as long as they are re-iced every five days. The pharmaceutical giant said it believes the dry ice supply will be able to support the rollout of its vaccine -- but challenges could still crop up. 
"This is the most challenging vaccination program ever attempted. (It) will be especially complicated in rural and remote communities," said Dr. Kelly Moore, an advisor to Pfizer's COVID-19 vaccine program and associate director at the Immunization Action Coalition.