---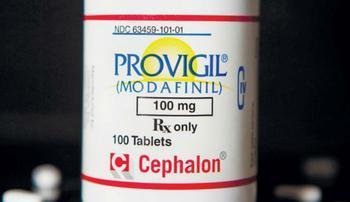 Critics of the pharmaceutical industry have long complained that drug companies make minor tweaks to their drugs with expiring patents to prevent generic versions from being made.
Now one such company, Cephalon, maker of the wakefulness drug Provigil, has reached a settlement with 48 states that accused the company of doing just that. They say Cephalon prevented generic competition for nearly six years by filing patent infringement lawsuits against all potential generic competitors.
The states filed suit and a court ruled the new patent was not valid and could not be enforced. But then the states claim Celphalon paid generic producers to delay production of the cheaper version of the drug until April 2012.
$125 million settlement
In their suit, the states charged that consumers paid more for Provigil than they should have. In settling with the states, the company has agreed to pay $125 million dollars, only $35 million of which will go to consumers. The rest will go to the states.
"Illinois consumers significantly overpaid for a drug they should have been able to purchase at much lower generic prices," said Illinois Attorney General Lisa Madigan.
"All consumers deserve the advantages of a fair and competitive marketplace; efforts to impede competition within the generic drug market are a serious concern," said Connecticut Attorney General George Jepsen. "Cephalon's conduct to 'pay-to-delay' generic competition of Provigil, as well as their intentional efforts to defraud the government and consumers is unacceptable."
Origin of the case
Originally, the Food and Drug Administration (FDA) approved modafinil, the active ingredient in Provigil, to help adults suffering from narcolepsy to remain alert. As its patent neared expiration in 2001, Cephalon filed a patent for a "new" version of modafinil and was able to keep marketing it exclusively until 2006.
This case is apparently not all that unusual. Earlier this year, attorney and self-described patent troll Eric Spangenberg told ConsumerAffairs he's found dozens of cases where a pharmaceutical company, faced with the loss of a patent on a profitable drug, makes a tiny tweak and obtains a new patent.
Spangenberg says this practice, called "evergreening," keeps cheaper generic drugs off the market and is much more common than the recent trend of drug companies buying the rights to older drugs and drastically hiking the price.
---