---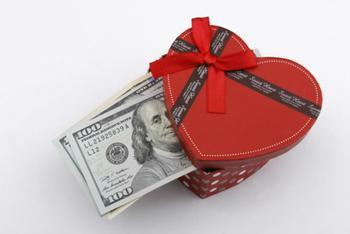 After rising for about a decade, the amount of money being spent on Valentine's Day is expected to decline this year.
The annual survey by the National Retail Federation and Prosper Insights & Analytics projects consumers in the U.S. will shell out an average $136.57, down $10.27 from last year's record high.
In addition, total spending is also expected to fall to $18.2 billion from last year's all-time high of $19.7 billion.
A decline in lovers?
One reason for the decline may be that fewer people will be celebrating. The number of people surveyed who plan to celebrate the holiday has dropped by nearly 10% -- from 63% in 2007 to 54% this year.
"Valentine's Day continues to be a popular gift-giving occasion even if consumers are being more frugal this year," NRF President and CEO Matthew Shay said. "This is one day of the year when millions find a way to show their loved ones they care regardless of their budget."
According to this year's survey, consumers plan to spend an average $85.21 on their significant other/spouse, $26.59 on other family members such as children or parents, $6.56 on children's classmates/teachers, $6.51 on friends, $4.27 on co-workers, and $4.44 on pets.
What we're buying
Consumers plan to spend $4.3 billion on jewelry (given by 19% of shoppers), $3.8 billion on an evening out (37%), $2 billion on flowers (35%), $1.9 billion on clothing (19%), $1.7 billion on candy (50%t), $1.4 billion on gift cards/gift certificates (16%), and $1 billion on greeting cards (47%).
"Gifts of experience" such as tickets to a concert, sporting event, or an outdoor adventure appear to be popular this year -- at least among potential recipients. While 40% of consumers want one, only 24% plan to give one.
Consumers plan to shop at department stores (35%), discount stores (32%), online (27%), specialty stores (18%), florists (18%), and local small businesses (15%).
The survey, which asked 7,591 consumers about their Valentine's Day plans, was conducted January 4-11 and has a margin of error of plus or minus 1.1%.
---