---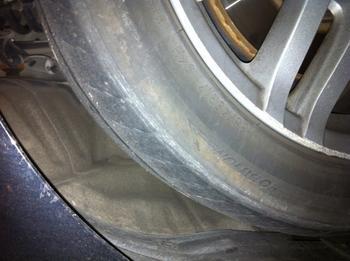 There's a lot riding on your tires, as the TV ads used to say. Tires are essential to the safe and economical operation of your car or light truck and shouldn't be bought strictly on the basis of price or on the word of your local tire salesman, as consumers often learn to their chagrin.
Take Allen of Littleton, Colo. He bought a set of Kumho Ecsta tires for his 2007 Acura TL and isn't happy with the result.
"I've only had my car for two years and 10,000 miles, my Kumho tires wore out. Only two years of service and 10,000 miles is not acceptable. I will never buy this brand again."
Allen was so steamed, he took pictures of one of the tires and submitted them with his complaint to ConsumerAffairs.
"I've got pictures of the sidewall but not the actual tire tread. However, you can still tell that the tires are extremely worn -- just by looking at the sidewall!" he said.
We checked TireRack.com -- where you can not only buy tires but also do a lot of free research into prices, performance and, ahem, warranties. Looking up the Acura TL driven by Allen of Littleton, we did indeed find the Kumho Ecsta as one of the tires that would be suitable for that car.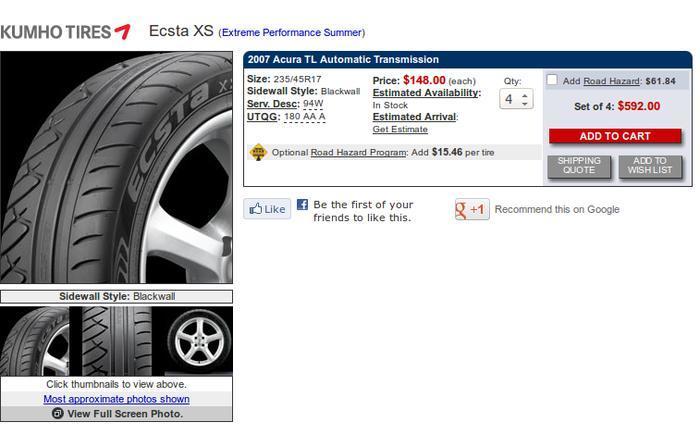 Note that this tire is described as "Extreme Performance Summer." It's basically a racing tire -- made for speed, not durability. It's not the ideal tire for Colorado roads in the winter, either. And sure enough, click on "warranty" and you find treadlife warranty for this particular tire described bluntly as "None."
Nevertheless, Kim of Escondido, Calif., concurs with Allen.
"Kumho tires are worthless. I had to buy a new tire at only 7,000 miles on my new Hyundai and now I have ANOTHER tire that's low," she said. "I didn't know I'd have to buy a new tire every 4 months!"
No mileage warranty
The warranty issue also irks Peter of Leonia, N.J., who said: "11 months ago and 14,000 miles ago, I purchased four brand-new Kuhmo tires from Globe Tire and Auto Service of Hackensack NJ. Globe sold me an additional road hazard warranty with a bill that totaled over $700.00. After 11 months of normal driving all four tires are bald."
Peter engaged in a long series of emails with Kumho, which informed him that his tire, the KU25, does not come with a mileage guarantee, as explained on the Kumho website and confirmed on a couple of tire sites we checked, as shown in this screenshot from TreadDepot (note the "N/A" in the mileage warranty section.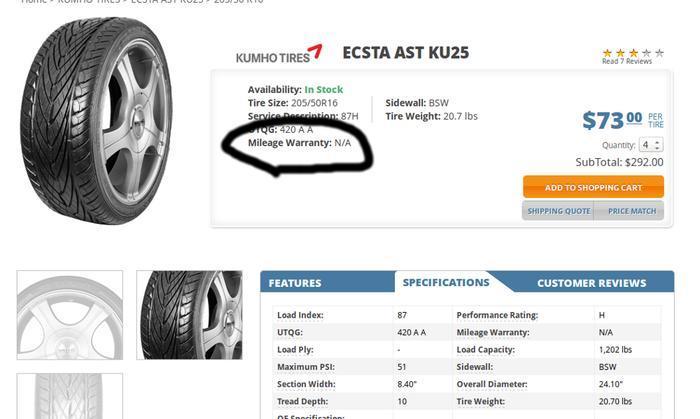 Peter found this "bewildering" and asked how a tire could be sold without a mileage warranty.
Well, the answer is that there are many tire manufacturers and many models and types of tires, many with widely varying warranties. High-performance tires -- the kind you find on Porsches and BMWs and on Allen's Acura -- often have low mileage warranties or none at all because the stickiness that racing tires provide results in faster wear.
Spend a lttle time at a race track and you'll see sports car drivers burn through a set of tires in a weekend. Sticky racing tires are made to provide extra adhesion at high speeds but it comes at a price -- the tire burns away quickly. Kumho, by the way, is a very popular tire among racing enthusiasts. They're highly regarded but no one expects them to last very long.
Kumho does, of course, make high-mileage tires as well but you need to be sure that's what you're getting if that's what your car and driving style require.
Of course, every consumer product is covered by an implied "suitability"  warranty that it is fit for the purpose for which it's sold and that it has no known defects. The fact that a tire wears out after 14,000 miles doesn't necessarily mean it's defective, in other words. Most manufacturing defects would be more likely to reveal themselves in the form of blow-outs and tread separations, not low mileage.
The best way to get the right tire? Spend some time researching which tires are best for which purpose and for your vehicle and then buy the highest-quality tire you can afford. It's the best way to avoid the aggravation and expense incurred by Allen and the others who wrote to us.
---