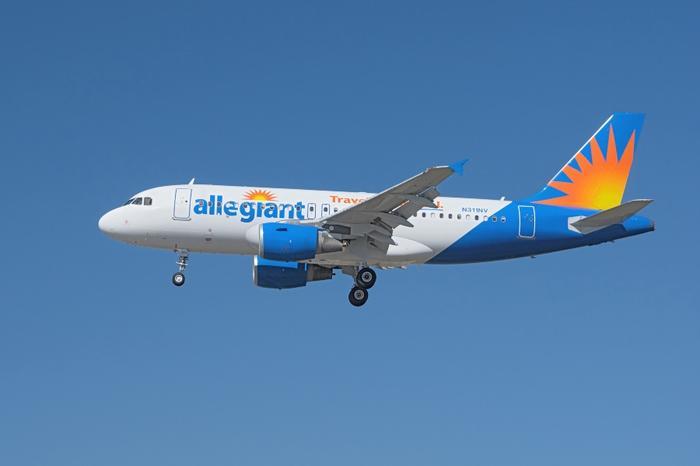 The Transportation Department reportedly wants the Federal Aviation Administration (FAA) to increase oversight of discount airline Allegiant Air, citing a number of in-flight engine shutdowns and other maintenance issues.
Reuters reports it has obtained a copy of the Transportation Department Inspector General's (IG) 31-page report detailing the investigation's findings. The report was sent to Congress and has not been made public.
A spokesman for Allegiant Air said the company has not seen the report and would not comment until officials there had an opportunity to review it.
According to Reuters, the investigation began in May 2018, prompted by what the IG's report termed a "series of in-flight engine shutdowns, aborted takeoffs, and unscheduled landings." The report said the incidents all occurred on the airline's MD-80 fleet, which was recently retired. Allegiant replaced the planes with Airbus jets.
Allegiant Air was founded in 1997 and is currently the nation's ninth-largest carrier. The company is based in suburban Las Vegas and flies a number of popular routes. It also serves secondary airports and is best known for its ultra-low fares.
Readers mention maintenance issues
Allegiant rates 2.5 stars from people posting reviews at ConsumerAffairs. No one mentioned in-flight incidents like those described in the report, but several mentioned that there seemed to be a lot of delays related to maintenance issues. Some like Tracy, of Denair, Calif., appeared to be concerned.
"What are the chances of three times in a row, in a two month period, there are hours of delay for maintenance problems," Tracy wrote in her ConsumerAffairs post. "I am deeply concerned about the safety of this airline."
2016 FAA audit
In 2016, Allegiant announced that the FAA audit of its operations had turned up several "minor" issues. The findings were "minor with non-regulatory issues observed, or with non-systemic regulatory issues observed," the airline said at the time.
The FAA said its audit discovered "several element design" and "element performance deficiencies." The audit, called a Certificate Holder Evaluation Process, is conducted regularly for all commercial carriers.
Reuters says the IG's report found that engine shutdowns on the now-discontinued MD-80 aircraft occurred at least 21 times between 2014 and 2018, forcing the planes to make unscheduled landings. The report also faulted regulators for allegedly not adequately tracking the risks from a mid-air engine shutdown.