---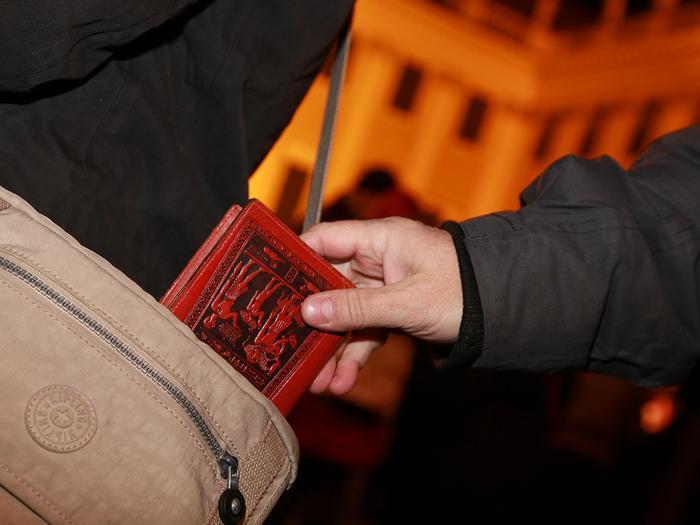 It was a sunny day in Madrid, the perfect day to linger outside. While walking through the alleys we found a charming café in a plaza and ordered a half carafe of local wine. I felt comfortable as we perused the menu; I had my credit card and ID secure in a wallet around my neck, tucked into my top. Even while sitting, my handbag strap was secure across my body.
Suddenly, we heard shouting, and as it grew louder we could see movement at the end of the alley. Our waiter said demonstrators were marching down the main street, but we felt safe tucked away in the plaza. Just then, there was rapid movement and a loud disturbance to my left. It looked as if two young women, moving between the tables, were distributing flyers, and I thought maybe it had to do with the demonstration. But the couple next to us started screaming and one of them was hitting the young women.
The ruckus ended as quickly as it began. One of the women had grabbed a cell phone from the table next to us. The couple, from Madrid, acted quickly and grabbed the cell phone back while slapping and chasing the women.
I have been a pickpocket victim myself and preach the importance of securing your valuables. While I do follow my own advice, it is easy to get caught up enjoying yourself and let your guard down.
Safety tips before leaving home
Leave your valuable jewelry at home. Do not take or wear any items that would leave you brokenhearted should they be stolen.
Make copies of the credit cards you plan to take, passport, medical insurance card, and photo ID.
Alert your bank and credit card company of your travel plans.
Download the free State Department Smart Traveler app. The app provides frequently updated official country information, travel alerts, travel warnings, maps, U.S. embassy locations, and more. 
Locate and retain the phone numbers for the U.S. Embassy and nearest consulate offices in the countries/areas you will be visiting.
Enroll in the State Department's Smart Traveler Enrollment Program (STEP), a free service that allows U.S. citizens to enroll their trip. Once registered, the Embassy can communicate information about safety concerns, contact you in case of an emergency (natural disaster, civil unrest, or family), as well as help family and friends reach you in an emergency.
Keep the State Department's emergency numbers handy. They will provide help (sometimes limited) for emergencies 24 hours a day, 7 days a week, overseas and in Washington, (888-407-4747 or 202-501-4444).
Staying safe while traveling
Secure your passport, cash, and extra credit cards in your hotel safe. If there is no room safe, ask at the front desk to use the hotel safe or lock them up in your suitcase.
Carry a copy of your passport when out and about. It will serve as your ID.
Bring one credit card, some cash, and your debit card while touring. Keep these safe in a travel wallet you wear around your neck and secure under your top or in a money belt tucked inside your waistband. Avoid putting anything in your pockets unless they are on the inside of a vest or jacket.
Always carry a handbag or backpack in the front. Keep one hand on the strap.
Use a numerical code to lock your phone, iPad, and computer.
Do not leave your cell phone, iPad, or camera sitting on a table or any other surface.
Always keep your cell phone, iPad, and camera secure when not in use, in a zippered pocket or a bag; don't make it easy for a thief to steal it right from your hand.
Most important, be aware of your surroundings, and while you should immerse yourself and enjoy, always remain diligent when it comes to security. Pickpockets and thieves are everywhere and just waiting for an opportunity to make you their next victim.
---