---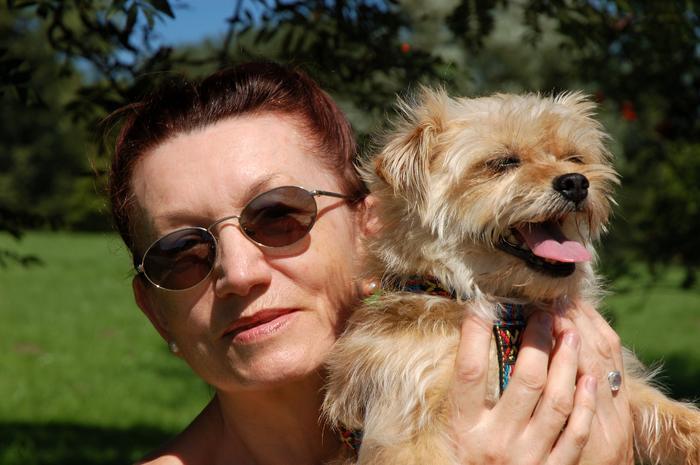 Pet therapy isn't new. For years aging specialists have known that having a dog, or spending time with a dog on a regular basis, is good for a senior's overall mental and physical health.
So when it came to an effort to encourage seniors to take part in daily exercise, a group of graduate students at Florida State University asked themselves -- would elderly residents of a retirement home be more inclined to exercise if dogs worked out along with them?
Doctoral students Ashley Artese and Brandon Grubbs enlisted residents of the Westminster Oaks Retirement Community in Tallahassee to take part in their experiment. They designed an exercise program that included dogs, recruited from the ranks of therapy pets.
"Between each exercise, we try to leave a little bit of time so people can pet the dogs and talk to the handlers," said Artese, a first-year doctoral student in exercise science.
Is canine contact helpful?
The senior volunteers were split into two groups of seven. One exercised with dogs trained by Tallahassee Memorial Hospital's pet therapy program. The other group exercised without them. The researchers hope to learn whether the contact with the animals was of any value.
They're measuring that value by looking at blood pressure, mood, physical ability and whether participants stick with the program. Three times a week, Artese and Grubbs take both groups through an exercise program. Walking around the room, biceps curls with light dumb bells and resistance band stretching are all a part of the routine.
The dogs are not just spectators. When the group lifts their dumbbells, one of the dogs – Bogey – picks up a plastic one. When the human participants walk around the room, the dogs walk along with them.
"Exercise classes are not something I call fun, but with the dogs, it is fun," said Mary Stevenson, a Westminster Oaks resident who is participating in the study.
In fact, Stevenson admitted she was not all that interested in taking part in the exercise class until she heard about her canine workout partners. That, she said, prompted her and her husband to sign up.
Long history
Pet therapy is now a well-established practice, used mostly with children and the elderly. The earliest reported use of the concept occurred in the late 18th century in England at a facility for the mentally ill. The presence of the animals was believed to be an effective tool for socialization.
Sigmund Freud is reported to have had a number of dogs, including one that was always present during in ground-breaking sessions of psychoanalysis. He is said to have noted the presence of the animal helped his subjects to relax.
According to the Mayo Clinic, animal-assisted therapy is a growing field in health care. Dogs and other animals are increasingly being enlisted to help patients recover from serious health problems, such as cancer or heart disease.
More commonly, however, animals are employed to provide comfort and enjoyment for nursing home residents. An organization called Pet Therapy combines puppies and children for visits to retirement homes and says it has recorded positive effects on residents' physical, emotional and social interactions. The groups says the presence of pets has been shown to reduce blood pressure, increase sensory stimulation and inspire a sense of purpose.
Logical next step
To the Florida State researchers, having dogs become workout partners for seniors is a logical next step. At the end of this program, the professors and doctoral students will review the data to see how it might translate into a large-scale study.
"This will inform some larger studies we're going to pursue," Schmitt said.
If it proves effective the researchers say dogs may also be prove to be good gym companions for people struggling with obesity.
---