---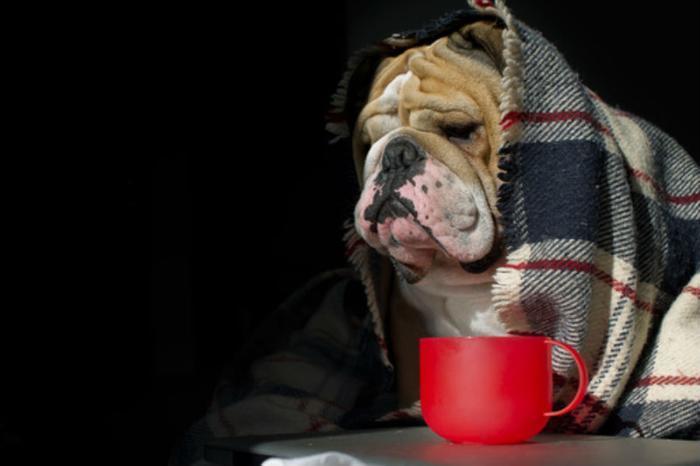 With the festivities behind us and temperatures only getting colder, the winter blues can sneak up on even the happiest people. But did you know humans aren't the only ones in the house to experience the post-holiday slump? About 40% of dog owners also notice a considerable downturn in their pet's mood.
Experts say the key to all these changes appears to be the effect that light has on two different hormones: Melatonin and Seratonin. When Melatonin levels are high, feelings of depression and a reduced motivation to play can surface. Sunlight is also needed for Seratonin production; when levels are low, moods can dip — both in humans and canines.
But with temperatures too cold for extended outdoor playtime, what can pet owners do to keep canine cabin fever at bay? The pet experts at DogVacay have rounded up some simple tips.
Boost your pet's mood by keeping them mentally and physically active with these fun indoor games:
Stage an indoor winter olympics. What better way to work off that excess energy than by staging your own indoor winter games? Have your pup stay put while you hide treats around your house. Then have your pup "go for gold" as he finds each and every yummy morsel.

Build a blanket fort. Bring the outdoors in, make a fort out of some blankets and the back of your couch. Gather some of your pup's favorite toys and toss them around your indoor fortress. Grab a cup of tea and a good book for yourself while you spend the afternoon in this new haven with your canine best friend.

Play hide and seek. To play hide and seek, your dog will need to know the "Stay" command. Ask your dog to stay, then very quietly hide yourself away somewhere in the house. Once you're out of sight, release your dog from his "Stay" with an "OK!" or other verbal command. Try not to blow your cover by bursting out laughing as you hear him sniffing and padding around the house, and wait patiently for that delightful moment when he finds you.
---