---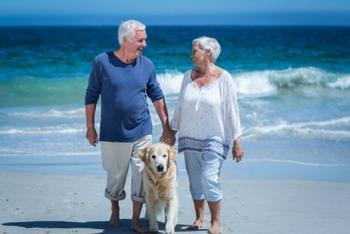 Leashing up your labrador and going for a walk can help your physical health, yes. But the benefits of dog walking don't end there.
Studies show that, for older adults, walking the dog may also come with some social and emotional benefits. And it's the special bond between man and dog that may be to thank for this unintentional byproduct of walking.
Increased feeling of connection
Walking the dog may be good exercise, but it can also help establish a deeper connection with one's community, explains Dr. Alice Pomidor, a geriatrics professor at Florida State University College of Medicine in Tallahassee.
"Pet ownership can lead to increased physical activity, as well as a greater sense of feeling connected to your community and to other pet owners," she told HealthNews.
Dog walking may also help reduce stress levels and overall health. How? While the act of walking itself may have something to do with it, experts say the bond you share with Fido may amplify the effects of walking.
One study found that individuals who reported a strong bond with their dog were likely to spend more time walking it, therefore leading to less isolation and better overall health. 
Reduced stress
Setting out for a quick spin around the neighborhood with your loyal companion may also help your body stave off stress and illness.
Daniel Promislow, an American Federation for Aging Research (AFAR) spokesperson, and director of the Canine Longevity Consortium at the University of Washington in Seattle, explains how dog ownership can positively impact one's health:
"On average, dog owners walk more and score better on stress tests and other measures of psychological well-being," Promislow said, adding that there is even some evidence that dog owners may be better at staving off disease.
"There is some suggestion in scientific literature that owning a dog is associated with a lower risk of various diseases [perhaps from that extra exercise], and faster recovery times when disease does occur," he explains.
Health boons such as these may be especially beneficial to older adults, notes Promislow. Indeed, as we've reported, owning a dog has been proven to be highly beneficial to the health of the elderly.
---