---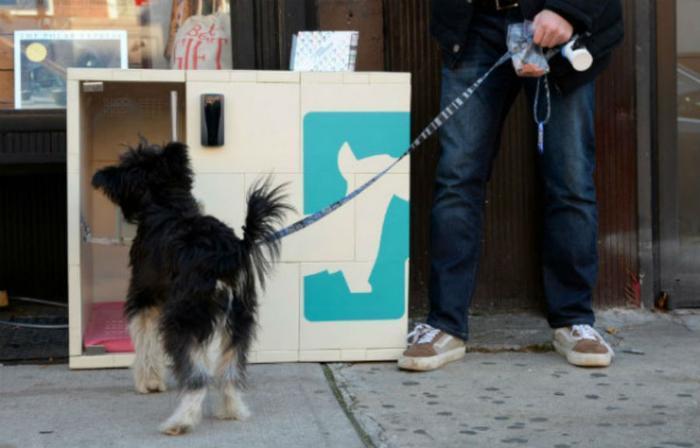 Having a dog is a big commitment; you have to make sure it's fed and looked after every day, which can be a problem if you already have a full schedule. If you can't leave your pooch at home, you might have to bring it along for many of your daily tasks, like going to the store. Many establishments might not allow pets inside, but if the weather is too cold or too hot it becomes unreasonable to leave them tethered outside. What, then, is a dog owner to do?
A new start-up business in New York City may have the answer to that question. Instead of tying your pet up out in the elements, Dog Parker would provide pet owners with a rentable kennel that is stationed outside a store or other business. For a small hourly fee, consumers could rent space in these curbside kennels and pick their faithful companions up when they're finished shopping.
Cost-effective convenience
The start-up was created when Chelsea Brownridge, a resident of Brooklyn, ran into a snag when making plans with friends. They wanted to take a walk in Prospect Park, which her dog Winston would love, but wanted to stop to get breakfast as well. She wouldn't be able to bring Winston inside, so he had to stay home.
To correct this grave injustice, Brownridge came up with her idea of a curbside kennel. The first Dog Parker was successfully tested outside of a Brooklyn eatery. Brownridge is hopeful that she can make as many as 100 of them available by late spring of 2016.
After paying a $25 membership fee, consumers can use the kennels at a rate of 20 cents per minute, or $12 an hour. For a person only looking to use them while they run inside the store, the hourly rate won't be much of a hassle for the convenience they provide. The kennels come in three different sizes, are temperature controlled, and come equipped with a webcam so that owners can check on their dogs while they're away.
Brownridge also notes that each kennel is secure, follows the same sanitation rules that doggy daycares have to follow, and are cleaned regularly. The kennels have gotten a mix of responses from consumers, but many store owners could use the product to attract customers. "We've had a couple of people use it in the past couple of weeks. . . I'm just happy to have another service I can offer my customers," said Keith Goldberg, a coffee shop owner.
Curbing abuse
While the idea has its merits, many consumers and critics point out that the Dog Parker could be abused by pet owners. They provide a way for bad dog owners to cheaply store their animals for hours, which could be harmful to many pets not accustomed to such treatment.
Brownridge reiterates that the crates should only be used for short periods of time, but has set up measures in hopes of curbing any abuse. Each kennel will have a time limit of three hours. If a dog stays for any longer than that, it is taken to a boarding facility where owners will have to pay a fee to retrieve it.  
---