---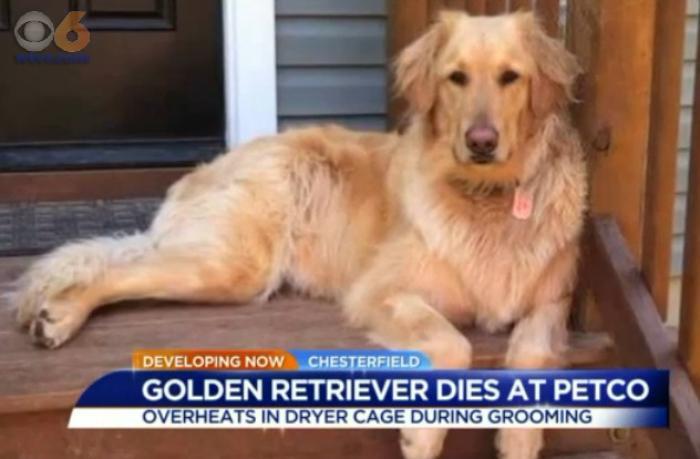 "He was my shadow. He followed me everywhere," Allison Marks said. "He was my next soul mate." Allison Marks is talking about her golden retriever Colby, a happy, loving two-year-old family dog that took a trip to a local Petco in Chesterfield County, Va., last week to be groomed.
What happened next has devastated Marks and her family.
Marks had not heard back from the Petco for five hours after she dropped her dog off. So naturally she called to inquire if the dog was finished. Instead of saying the dog was finished and waiting for her they told her to meet the assistant manager at a local animal hospital. When she got there the assistant manager told her that Colby was left in a heated drying cage too long.
The assistant manager said the reason Colby's groomer left was that she had a graduation to go to. The veterinarian said that Colby most likely died of heat stroke. The vet told her that more than an hour after Colby's death, the dog's internal temperature still showed more than 105 degrees. A normal dog's temperature is between 100-103 degrees.
When Marks contacted PetCo's corporate office they reportedly told her that the drying cages automatically turn off after 15 minutes.
Eyes glazed over
"You could clearly see he was dead. His eyes were glazed over and stuff. And I just said, 'Is he dead?' And they said, 'Yes, he's passed on.' And… that was the worst day ever," Marks told CBS.
Marks did say that the assistant manager was very kind and was also crying.
Petco released this statement: "All of us at Petco remain deeply upset by Colby's passing. We have strict protocols in place to ensure the well-being of pets in our grooming salons, and we take it very seriously when those protocols are not followed. The groomers involved have been suspended while we complete a thorough investigation, and we are in contact with the pet parents and coordinating with local Animal Services to understand what happened in this terrible situation. It's important to know we do not use heated dryers in any Petco grooming salons, and we can confirm there was no heat used in the drying process during Colby's groom, but other details are still being investigated." 
---