---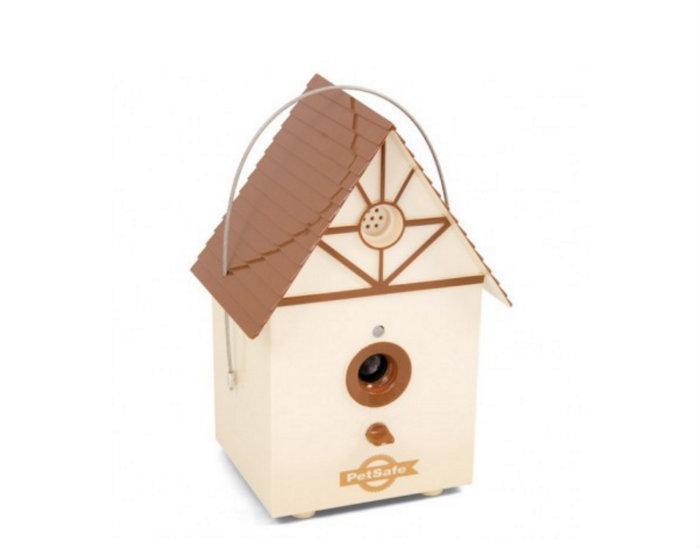 Dog owners who are tired of hearing about every squirrel Fido sees in the backyard may benefit from PetSafe's Outdoor Ultrasonic Bark Deterrent.
The device,­­ which looks just like a birdhouse,­­ picks up on excessive barking when placed within a 50­-foot range and emits an ultrasonic sound. The high­pitched sound is unpleasant to dogs but inaudible to humans. The idea is that, over time, dogs will negatively associate the sound with their own barking. When the barking stops, so does the sound.
While most users purchase the device for use on their own dogs, many others have used it as a way to stop nuisance barking in neighbor's dogs.
"We've been bothered by a neighbor's dog that comes out periodically day and night and just barks for 10-­30 minutes­­ usually facing our house. We got this product, found a spot in the trees facing the dog and set it up. It's really worked as advertised," says R. Potter on Amazon.com.
Of the many solutions to excessive barking in dogs, this is one that will please those not keen on the idea of a shock collar. The sound is harmless, yet annoying ­­-- a gentle reminder to the dog to stop barking.
Not effective on all dogs
While many say the product did indeed make their days a little less ruff, it is important to note that it does not work on all dogs. Every pup is different. Age, hearing ability, and temperament are factors listed by PetSafe as possible impediments to the unit's effectiveness.
Among the product's most commonly reviewed downfall is how quickly it runs through batteries.
"Works well when it has batteries. Sucks batteries dry in no time and ends up being more expensive than what was paid for," says Mick T. on Amazon.com.
The company suggests turning off the device when not in use to improve battery life and says a reduction in barking can be expected within two weeks. While results are not guaranteed, the product has an overall rating of 3.5 stars out of 5 on PetSafe.com.
PetSafe's Outdoor Ultrasonic Bark Deterrent is weatherproof, durable, and runs on 1 9-­volt alkaline battery, which is not included. It is available at PetSafe.com for $69.99. 
---