---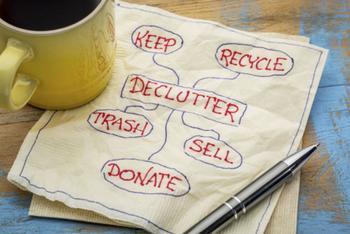 Drive through any American neighborhood on a weekend and you're likely to encounter at least one yard sale.
At some point, consumers decide they have more "stuff" than they need and decide to get rid of it. They might be preparing to move, or they may finally have gotten fed up with the clutter.
A new survey suggests this is actually a common problem. The study, conducted by ClearVoice Research and commissioned by OfferUp, polled 1,000 consumers and found two recurring complaints: they have too much stuff and not enough money.
For example, nearly half of those in the survey said their homes had too much clutter, caused by items they no longer use. In fact, one out of seven said there was a room in their house they couldn't use because it was filled with unused "things."
Seventy-two percent said they needed to "declutter," but 41% admitted they had not done so in over a year.
Too much anxiety
Collette Shine, president of the New York chapter of the National Association of Professional Organizers, says it's clear people have too much stuff and it's causing them too much anxiety.
"People have a hard time decluttering for a lot of reasons - such as an underlying emotional attachment or because the process is simply too overwhelming," she said.
At the extreme, holding onto stuff can turn into hoarding. Realty TV shows have documented the often bizarre behavior of people who live surrounded by mountains of old newspapers and magazines, empty bottles and other "stuff."
In most cases, all this "stuff" has been purchased at one time or another. The consumer economy encourages purchasing "things," and often these transactions are made on impulse. So it might not be surprising that consumers who think they have too much "stuff" are also feeling some financial pressure.
Financial concerns
The study found 84% of consumers expressing financial concerns. Nearly half – 46% – said it was difficult to meet basic household expenses each month. Many worry that they lack sufficient emergency savings.
"We really wanted to understand how Americans think about the things that they have in their homes and what keeps them up at night," said Nick Huzar, co-founder and CEO of OfferUp, which has been described as a mobile-only hybrid between Craigslist and eBay.
Huzar says selling unwanted things can solve two problems: it helps with decluttering and brings in a little cash.
Of course, the problem may resolve itself since the Millennial generation appears to be much less enamored with "things" and is more likely to spend money on experiences.
You can see it un GroupOn's latest advertising campaign, which emphasizes deals on experiences.
---