---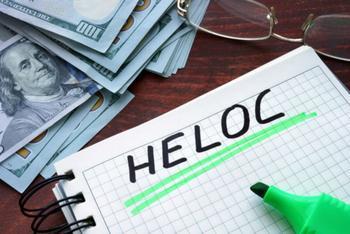 You need a solid credit rating to get good access to credit, but once you're over that hurdle, what kind of debt is most advantageous?
Most consumers probably think first of a credit card. But if they can't pay off the purchase right away and must carry a balance, the interest rate can be very high. That makes whatever they are financing even more expensive.
An alternative to a credit card is a home equity line of credit (HELOC), which is basically a second mortgage on your home. There are advantages as well as risks, and it appears to be an often-overlooked form of credit.
The Washington, DC-based Urban Institute estimates American homeowners have accumulated nearly $7 trillion of equity in their homes that could be tapped for a major purchase, as opposed to putting it on plastic.
While this equity tends to be concentrated in California, New York, Florida, and Texas, the Urban Institute report shows the average usable equity is around $150,000.
Memories of 2008
So why aren't more consumers using a HELOC instead of a credit card? It might be a case of not knowing much about these loans. Some homeowners may also be leery of tapping the equity in their homes, which was done with disastrous results during the housing bubble – not an irrational fear.
The advantages of a HELOC include the interest rate. For those with a good credit score, the going rate at the moment is less than 5% APR. A credit card rate is closer to 16%.
The reason for the rate differential is the HELOC is secured by the equity in your home while the credit card is unsecured.
But because the HELOC has such a low rate, a consumer can pay it down more quickly than a credit card. For that reason, Johnna Camarillo, manager of equity lending at Navy Federal Credit Union, recommends a HELOC for debt consolidation.
Debt consolidation
"If an individual has multiple credit cards, all with varying rates of interest, a great option is to consolidate their debt using a HELOC," she said. "This works by using your line of equity to pay off large sums of debt you've accrued."
And because the loan is against your principal residence, the interest payments are tax deductible, while credit card interest is not.
HELOCs are generally not as risky as the kind of lending that went on during the housing bubble. At that time, homeowners were tapping nearly all of their equity by refinancing first mortgages. When home prices fell, they were underwater.
HELOCs are made for no more than 75% of available equity. Home values would have to crash by more than 25% for a homeowner to be underwater.
Here's what the Consumer Financial Protection Bureau has to say about HELOCS.
Thanks
Keep an eye on your inbox, the lastest consumer news is on it's way!
Unsubscribe easily whenever you want
---