---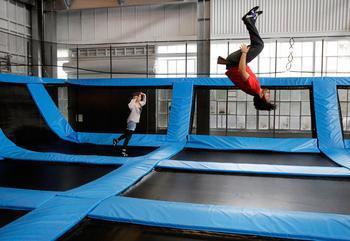 Indoor trampoline parks have become a favorite family outing destination, but doctors caution that these visits pose potential dangers.
Indoor trampoline parks are normally inside cavernous buildings in strip shopping centers, containing a series of interconnected trampolines, surrounded by padded walls.
A study by doctors at Connecticut Children's Medical Center and published in the journal Pediatrics, says injuries at these commercial parks have risen, along with their popularity. Using government emergency room data, the study estimates trampoline park injuries requiring an ER visit rose from 600 in 2010 to nearly 7,000 just four years later.
Sprains and fractures were the most common injuries, the study found, and were more likely to involve young males.
Long-time concern
Doctors have long been concerned about trampolines in general, noting that these recreational devices installed at homes have been a source of too many injuries. In 2014, researchers at Indiana University estimated trampoline-related accidents sent more than 288,000 people, mostly children, to hospital ERs with broken bones from 2002 to 2011. The total bill was $400 million.
If you counted all the injuries, not just broken bones, the study found more than one million trampoline users got hurt, at a treatment cost of more than $1 billion.
The latest study focuses exclusively on indoor trampoline parks, concluding that injuries at these establishments were less likely to involve head injuries than injuries on home trampolines, but more likely to involve leg injuries and more likely to result in admission to a hospital.
Industry response
The International Association of Trampoline Parks (IATP) issued a statement in response to the study, pointing out that the researchers measured numbers, as opposed to percentages. The number of injuries rose sharply in four years because of the explosive growth in the industry.
"With industry growth from 25 parks in 2010 to more than 350 in 2014, there would naturally be an increase in the number of trampoline park injuries reported from 2010 to 2014," the group said.
The trade group said trampoline jumping is safe when participants know what they're doing, are closely supervised, and are using safe equipment in a padded environment.
But the Connecticut researchers say trampoline park injuries "are a growing concern," and called for additional research and strategies to prevent injuries at indoor trampoline parks.
---