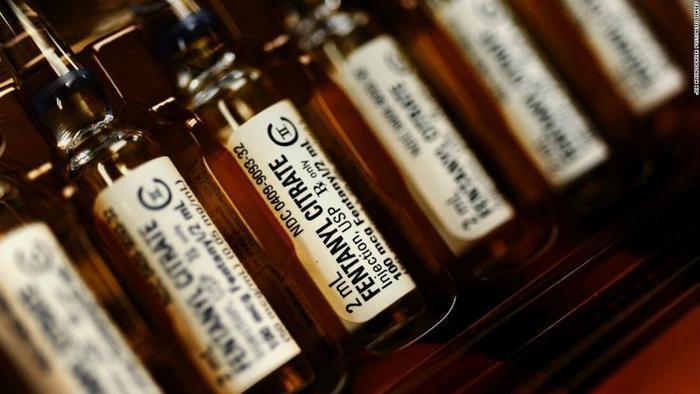 Doctors in the United States have prescribed a deadly, powerful opioid to an "alarming" number of patients, according to a new study published in the Journal of the American Medical Association.
Fentanyl is a synthetic opioid that experts estimate is 100 times more powerful than morphine. The Centers for Disease Control and Prevention (CDC) linked fentanyl and other synthetic opioids to a spike in opioid overdoses deaths last year.
But for a small subset of cancer patients, fentanyl also offers the potential to finally end inescapable pain, according to the Food and Drug Administration (FDA).
In recent years, numerous pharmaceutical companies have marketed fentanyl for cancer patients who aren't getting relief from less potent opioids.
The pharmaceutical version of fentanyl is administered to cancer patients via medicated lollipops, lozenges, or nasal sprays. To ensure that the fentanyl for cancer patients isn't being prescribed to the general public, the FDA launched a program several years ago to monitor fentanyl prescriptions. Under the FDA's program, only cancer patients who had built a tolerance to other opioids could receive a prescription for the fentanyl suckers or sprays.
But that's not how it played out. From 2013 to 2017, as many as 55 percent of patients who were prescribed fentanyl did not meet that strict criteria, the new study says.
"We found alarming use of these products in patients who never should have received them," G. Caleb Alexander, a senior author of the study and director of the Johns Hopkins Bloomberg School of Public Health, said in a statement to WREG. "The prescribing of this medicine was supposed to be closely monitored and contained but was not."
FDA program falls short
Alexander and his co-authors made those findings based on nearly 5,000 pages of FDA documents. They obtained the documents by filing a Freedom of Information Act Request, a tactic typically used by journalists, not medical researchers.
As the researchers explained, they filed the public records request to see whether the FDA and drug companies had lived up to their own promise to carefully monitor who received the potent drugs.
The FDA in its own documents admits that its fentanyl-monitoring program was "not meeting its overall goal or most of the objectives," according to the study.
The John Hopkins researchers were not able to track what happened to the individual patients who received unnecessary prescriptions to the fentanyl products, but they say the data overall indicates a threat to public health.
"For those patients, there's an unacceptably high risk of fatal overdose," Alexander added.
The FDA responded with a statement to the Washington Post that it shares the researchers' concerns about fentanyl prescriptions.
"These products are medically important for a small group of patients who are opioid-tolerant but also pose serious risks," an agency spokesman said.
It's not the first sign that the drug industry, doctors, and regulators may be following the same reckless pattern with fentanyl that they have with other opioids. A pending federal criminal case in Boston charges that Insys Therapeutics bribed doctors in the marketing of its fentanyl spray.