---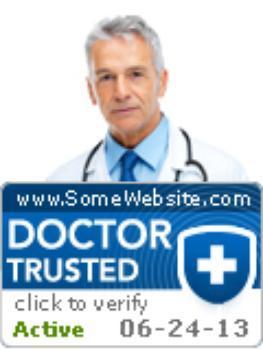 The "Doctor Trusted" certification program used to peddle all kinds of products on more than 800 websites was bogus, the Federal Trade Commission charged, and its backers have agreed to pay $603,000 to settle the commission's complaint.
SmartClick Media LLC and its owner Robert Vozdecky, also known as Bill Anderson, also agreed to settle charges that several of their websites, such as betterlivingjournal.org, were deceptively formatted to appear to be independent lifestyle blogs or health-product review sites.
"Consumers should be able to rely on seals and certificates for accurate information on how products are tested and evaluated," said Jessica Rich, Director of the FTC's Bureau of Consumer Protection. "Unfortunately, in this case, they were completely misled by the sellers of the 'Doctor Trusted' program."
Seals were meaningless
According to the FTC's complaint, the defendants marketed and sold the"Doctor Trusted" seal and certification program to websites that hawked dietary supplements and other supposed health products.
When consumers clicked on the seal, they were shown a pop-up box that displayed the "Doctor Trusted" certificate, which stated that the products on the site were "carefully evaluated by an independent medical doctor who reviewed its medical information, claims, products, terms of service, and policies," and who deemed them "trustworthy and safe for purchase."
In fact, said the FTC, the seals and certificates were meaningless. The defendants hired two freelance doctors who superficially reviewed the products on the websites. However, the doctors did not actually evaluate the products, or determine whether the advertising claims for the products were supported, according to the complaint.
The FTC also charged that the defendants operated lifestyle blog and review websites that claimed to offer unbiased advice and information about various medical products, programs, health issues, and scientific breakthroughs. In reality, these sites were advertising vehicles, and the defendants received a commission whenever a consumer clicked on them or bought an advertised product.
---