---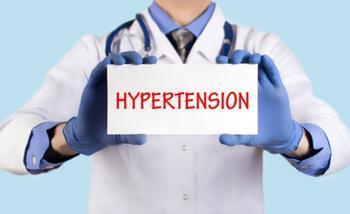 Hypertension, or high blood pressure, is called "the silent killer." Elevated blood pressure can eventually lead to heart attack and stroke, and millions of people with hypertension don't know it.
There is very effective medication to control blood pressure -- and a healthy lifestyle also helps -- but first you have to know that your blood pressure is too high.
As we first reported back in early December, doctors have begun to worry about what they call "masked hypertension." A patient goes to the doctor and his blood pressure reading is a perfectly acceptable 129/82.
But then he goes about his daily life -- going to work, picking up the kids, cleaning out the garage, and while he's doing all that his blood pressure might be an unhealthy 147/96. He doesn't know, of course, because he doesn't have a blood pressure cuff at home to measure it.
Numbers are alarming
Researchers at Stony Brook and Columbia universities have studied this phenomenon by attaching 24-hour ambulatory blood pressure monitors to subjects in their study. They now say that not only is the condition real, the numbers associated with it are alarming.
They found 12.3% of people display a normal blood pressure reading in the clinic, are not taking blood pressure lowering medicines, have never had a heart attack or stroke, but have high blood pressure during their daily activities. This amounts to about one in eight adults over age 21 -- approximately 17.1 million people in the U.S.
Lead investigator Joseph Schwartz of Stony Brook says the study is breaking new ground in estimating the size of the problem. He says it could lead to new guidelines to help identify patients with high blood pressure and improve hypertension preventive methods.
What to do
Until then, it is helpful to know the hypertension risk factors. People over age 50 are at risk of developing hypertension. So are those who are overweight or obese, or have a sedentary lifestyle with little physical exercise.
Diet can also be a big risk factor. Eating unhealthy foods, especially those high in sodium, can increase the risk for hypertension. African-Americans are at a higher risk than other races.
If you think you might fall into one of those risk categories, consider investing in a home blood pressure monitoring cuff and learn how to properly use it.
Measuring your blood pressure two or three times a week, at different times of the day, might let you know if you are suffering from "masked hypertension," even though your readings at the doctor's office look just fine.
---