---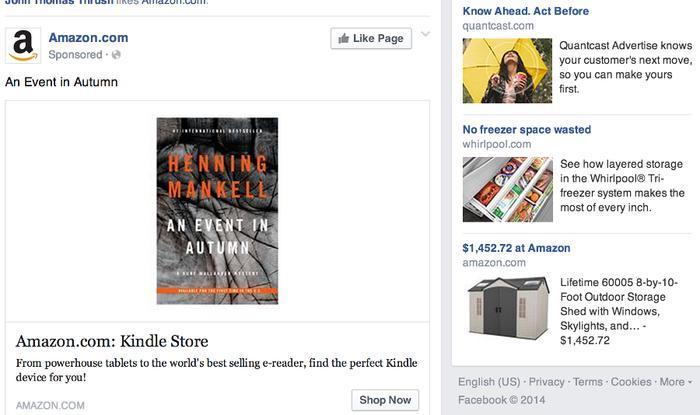 Companies large and small are spending billions to advertise on Facebook, Twitter, Google+ and so forth, producing lots of ads that break up the stream of cute kitten photos and news from the folks back home, or wherever.
Are they getting their money's worth?
A new study suggests they may not be, although Facebook disputed the findings. "The only thing this poll shows is that self-reported behavioral data is unreliable," Facebook said.
Gallup found that a clear majority of Americans say social media have no effect at all on their purchasing decisions -- with 62% saying the sites do not have any influence on their decisions to purchase products.
Only 5% say social media have "a great deal of influence" on their purchasing decisions, while another 30% say these channels have "some influence."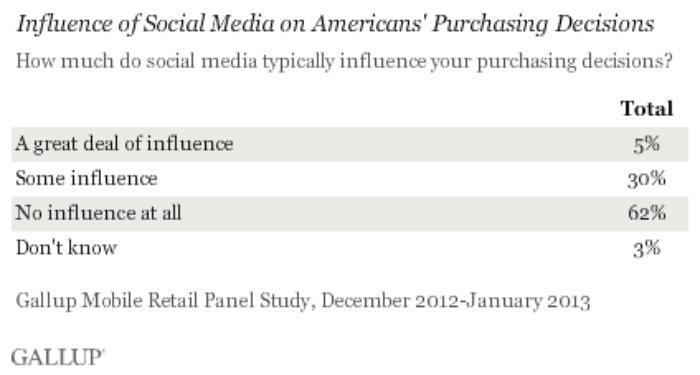 These data, from Gallup's new State of the American Consumer report, are based on Americans' self-reported estimates of how much social media campaigns affect their purchasing decisions. While social media may have more influence than some Americans realize or will admit, these data show that relatively few consumers consciously take into account what they learn from social media when making purchases, Gallup said.
Even among American consumers who "like" or follow a company on Facebook or Twitter, 34% say that social media have no influence at all on their buying decisions, while 53% say they have some influence.
What works
So what does influence buying decisions?
Gallup says consumers are much more likely to turn to friends, in-store displays, television commercials, and even mail catalogs and magazines than to consult a company-sponsored Facebook page or Twitter feed.
Also, Gallup said that consumers who engage with brands often do so when they are already attached to a product or service. Companies that engage their customers -- by providing exceptional service and a pleasurable in-store experience -- will, in turn, drive those customers to interact with them on social media. Simply promoting products and services on Facebook or Twitter is unlikely to lead to sales.
Even Millennials -- a generation that many companies regard as a key social media audience -- tend to say that social media marketing is not much of a factor in their decision-making, with about half saying social media have at least some influence on their buying decisions (50%), the other half saying social media have no influence at all.
Facebook responds
A Facebook spokesman said the results were flawed because they relied on self-reported behavioral.
"For decades, studies that look at people's actual, real-world behavior have shown that ads on all mediums, including social media, affect the things people buy."
In a prepared statement, Facebook said advertisers demand proof before shelling out huge sums for advertising.
"The most successful marketers in the world don't just take our word for it when it comes to ad effectiveness, they've asked us to prove that our ads work. And we have. Those marketers hold us to a very high standard; we look at actual changes in attitudes and behaviors using experimental design — the same approach used in medical trials," the company said.
Study details
These results are based on a Gallup Panel Web and mail study of 18,525 U.S. adults, aged 18 and older, conducted Dec. 12, 2012, to Jan. 22, 2013. All surveys were completed in English.
The Gallup Panel is a probability-based longitudinal panel of U.S. adults who are selected using random-digit-dial (RDD) telephone interviews that cover landline and cellphone telephone numbers. Address-based sampling methods are also used to recruit panel members. The Gallup Panel is not an opt-in panel, and members are not given incentives for participating. The sample for this study was weighted to be demographically representative of the U.S. adult population, using 2012 Current Population Survey figures.
For results based on this sample, the margin of sampling error is ±1 percentage point at the 95% confidence level. Margins of error are higher for subsamples.
---